Artist: Albert Young
Totem Stack, an unusual piece of original sculpture added to the Michigan Art Walk collection, stands alone at the entrance to the Arts & Sciences Commons at Ferris State University.
"All my work involves raw, twisted forms made of structural steel with some application of cast glass," said Albert Young, creator of Totem Stack. "The natural beauty of the materials I use makes it very easy to integrate the sculptures into any landscape."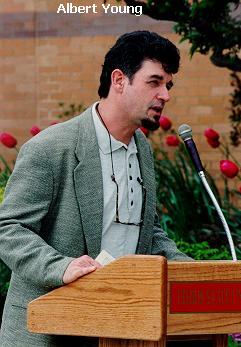 As a studio artist and owner/operator of the Michigan Hot Glass Workshop in Pontiac, Michigan, Young has been widely published, with completed public commissions for Wayne State University and the Michigan State Capitol Building. He has exhibited his work since the early 1980s, and is a former co-owner, operator, and instructor at S&Y Hot Glass, an affiliate of the Birmingham Bloomfield Art Association.
Young holds a master of fine arts degree in sculpture from Wayne State University, a bachelor of fine arts in ceramics from the Center for Creative Studies in Detroit, and an associate degree in machine tool/welding technology from St. Clair County Community College. He has studied in Italy and Taiwan, and formerly served as a faculty member of the College of Art and Design, Center for Creative Studies. Young currently teaches advanced glass blowing at his Michigan Hot Glass Workshop.
Some of Young's work can be found in the permanent collections at the University of Iowa, Wayne State University, Detroit Institute of Arts, Shinko Management Services (Tokyo, Japan), Arthur Anderson, Michigan Society of Architects, St. Clair County Community College, St. Clair Art Association, the Osaka University of Arts (Osaka, Japan), and Scottsdale Museum for the Arts.
The World Heritage Foundation, an organization dedicated to "helping make a difference in the areas of health, education, welfare, arts and culture, funded Totem Stack. The Foundation's president, Waltraud E. Prechter, spoke on the subject "Why We Support the Arts" at the dedication ceremony.