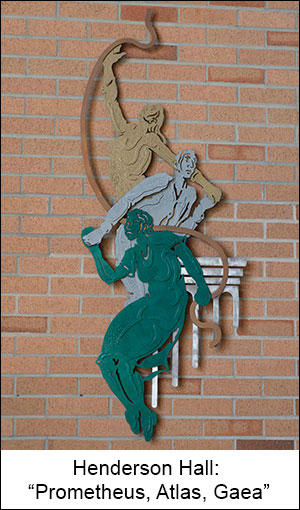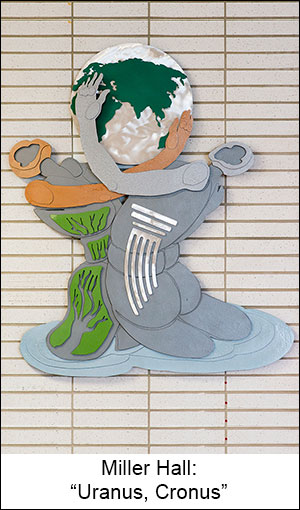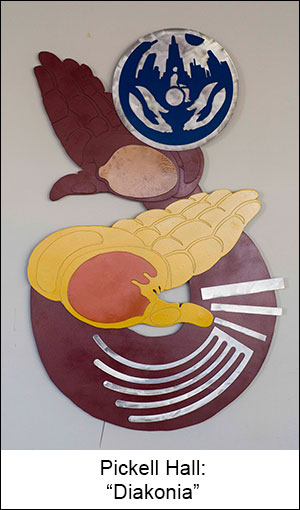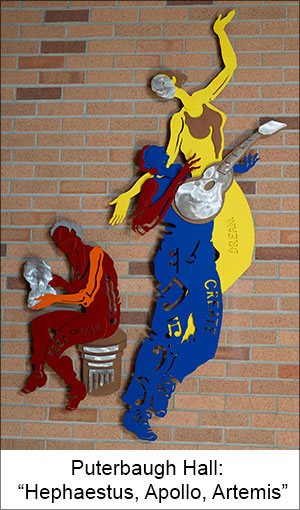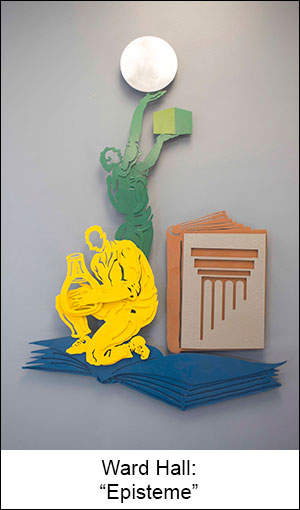 Art that celebrates Ferris State University's Honors Program has been created by students to inspire students for years to come.
Five metal sculptures, commissioned by the Honors Program, were designed, engineered and constructed by students under the supervision of resident artist Robert Barnum. The pieces, installed in each of the residential program's halls, were officially unveiled April 28, 2013.
"The artwork represents, affirms and celebrates Honors Program values in the public spaces where the students live and do their work," said William Potter, associate provost of Retention and Student Success.
A sculpture that depicts "Community" graces a wall in Pickell Hall, while another symbolizing "Global" can be found in Miller Hall. "Leadership" is represented in Henderson, "Culture" in Puterbaugh and "Scholarship" in Ward.
"The Honors Program is about more than just getting good grades or a high test score –- it is about developing an identity as part of the community, both on campus and off," said Peter Bradley, director of the Honors Program. "Robert's sculptures will serve as a prominent reminder of our commitment to strive toward those ideals."
Ferris' Honors Program provides academic and leadership resources and support to challenge and nurture some of the University's most highly motivated students. The program has grown steadily from an initial enrollment of 132 students in 1997 to 767 during the 2012-13 academic year.
It is only fitting that art honoring one group of exemplary students was created by another.
The sculptures are a continuation of Barnum's decade-long effort to fuel Aesthetic Engineering at Ferris. Aesthetic Engineering is both an academic bridge concept that partners programs in different schools and an academic studio concept that develops creative thinking and problem-solving skills to better prepare students for the job market.
Aesthetic Engineering is the focus of studio courses offered through the College of Arts, Sciences and Education' Humanities department. Through a partnership with the College of Engineering Technology, Barnum has worked with Welding Engineering Technology students on projects that blend their skills with artistic creativity to solve real-world problems.
"Engineering students' work is linear; they struggle when a task is concept-driven," Barnum said. "We want them seen as people who develop ideas as well as have mechanical skills – to know how to build a bridge and to make it look good, too."
Several other Aesthetic Engineering projects can be found on the Ferris campus and in the community, such as "The River Flows Within" along the Riverwalk behind Big Rapids Middle School.
"Public art must have an incredible life span," Barnum said. "Students are working to create art that is maintenance-free and cost efficient but has a personal narrative. When they hand the sculptures to the Honors Program, they will outlast those buildings."
Each of the five Honors Program sculptures, which average 4 feet by 5.5 feet, contains about 150 pieces designed to fit together perfectly. Various phases of the project were completed at the Creative Arts Center on campus. Painting was completed by Scott's Body Shop in Big Rapids.
The main project team included Erin Martin, of Cadillac, a sophomore majoring in Architectural Technology who is an Honors student herself. Welding Engineering Technology majors Jennifer Maxwell, a junior from Port Huron; Robert Gingrich, a junior from Rockford; and William Teifke, a sophomore from Stevensville, rounded out the main team.
"Erin, Bob, Willie and Jennifer did the bulk of the work, from converting freehand drawings to CAD, design and engineering challenges to fabrication," Barnum said.
Ten other students also participated in varying degrees of design steps and hands-on involvement on the sculpture project, he said.