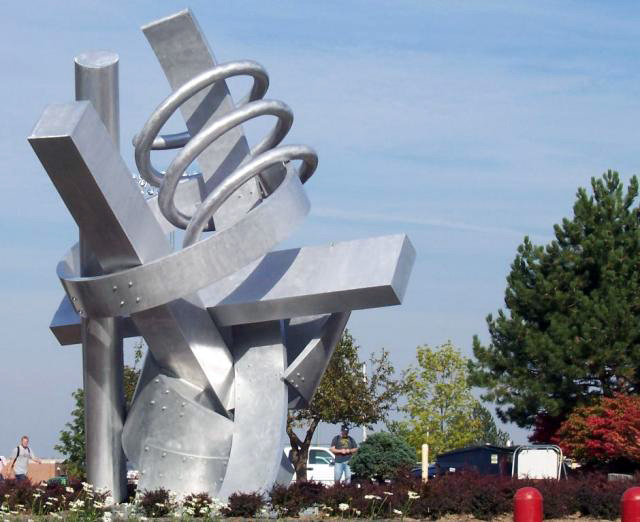 Artist: Ray Katz
The sculpture of Ray Katz represents a vision of form and space as it symbolizes ideas. It is a metaphor for his formal and philosophical concerns and is a reflection of his life experience. His sculpture incorporates ideas of transcendent movement from one plane or state or existence to another through the passage of time in real space. They are a tribute to the evolutionary processes of life as we experience them on the human plane and in the transcendent experience inherent in life's journey. Through the creative process a hierarchy of elements become symbols for these concepts by celebrating each as an event in the form of a sculpture.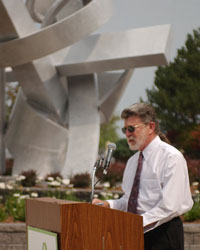 Ray is best known for his large-scale metal sculpture, but works successfully in wide range of materials and media. He has developed the physical resources to actively construct sculpture in his own studio. His creative process requires organizing separate parts into a whole. Much of this activity is initially spontaneous. Once a group of relationships are perceived, they are united using various methods of construction. He is committed to creating large-scale work and, as a result, his sculpture is most often installed outdoors. Ray Katz has exhibited at numerous galleries and museum-sponsored exhibitions where his work has been admired and respected. Sculpture has been his primary interest since his seminal development as an artist. He has worked in many mediums but metal has remained his passion.
His education includes the Detroit Society of Arts and Crafts, Eastern Michigan University and Wayne State University where he received his Master of Fine Arts degree in sculpture and drawing. He currently is Professor of Art at The Auburn Hills Michigan Campus of Oakland Community College where he teaches sculpture, drawing and design.
He has exhibited in Michigan, Florida, George, Texas, Kansas, Illinois, Tennessee and New Jersey and is represented in private, corporate and institution collections.