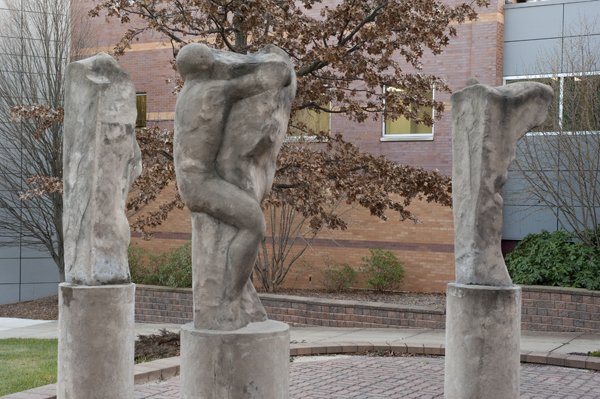 Artist: Barron Naegel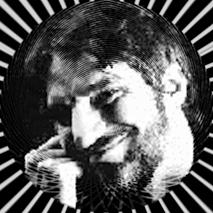 He's a man with an abstract view of life and the talent to transform his vision into art.
Barron Naegel, sculptor, was officially commissioned to launch the "Ferris Renaissance" and start a new age of art at the 112-year-old University. His sculpture, Dimensional Learning, was dedicated in the courtyard of the new Arts, Sciences and Education Commons on Sunday, September 8, 1996.
Ferris, a school built around its career-oriented technical programs, has taken on another personality. The long range goal of the Ferris Renaissance is to enrich campus life and someday change Ferris into a walking museum of Michigan art.
Robert Barnum, coordinator of fine arts, has remained behind the scenes during his seven years at Ferris. Now, he is the point man of the Renaissance and the creator of a huge 35-by-18 foot oil painting that symbolizes the history of FSU.
"In 20 years, we can turn this campus into a walking art museum," Barnum said. "Here will be an environment that will be known and respected for its art collection."
Starting at square one, Barnum and Dean of Arts, Sciences and Education Sue Hammersmith envisioned a piece of art for the courtyard of the new Arts, Sciences and Education Commons.
Barnum decided to run a competition among Michigan artists to identify a sculptor for the site. It's a competition he hopes to run annually to add a sculpture per year to selected campus sites. Eventually, this "Michigan Art Walk," connected by a brick pathway, could extend into the Big Rapids community.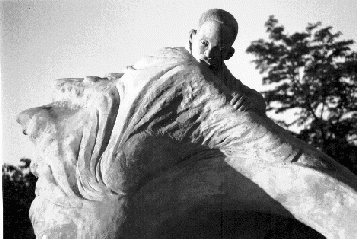 Naegel became acquainted with Barnum's proposal when he was studying for his masters at the University of Michigan and noticed a posting in the art department. He submitted an artist's prospectus, and was chosen for his classical/abstract style.
Naegel was intrigued by the whole concept of expansion and new construction at Ferris. The new Arts, Sciences and Education Commons adjoins the Science and Starr buildings in a modern three-building complex.
Naegel actually sculpted three different figures for the Arts, Sciences and Education courtyard, each around 11-feet tall. He molds and sculpts his figures out of reinforced concrete (ferrocement) -- his life experiences ultimately determining their final shape.
Naegel even made a special visit to Ferris to meet with physical plant personnel to fully understand how his sculpture would combine with the environment.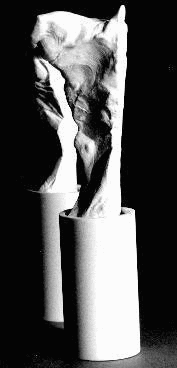 "Ferris State is known for tying together the sciences and humanities, and that is exactly what has happened with their new construction," Naegel observed. "My sculpture is very site-specific and organic. The three forms loosely represent the three buildings and the union of art and science."
The three figures bring on an eerie feeling with their distorted faces and twisted body shapes. They are displayed in a circle of 15-feet in diameter in the courtyard, allowing the viewer to freely move around and visually merge the figures.
In the fall of 1995, as part of his masters studies at Michigan, Naegel traveled to Florence, Italy to explore the architecture, art and history of the country. The trip allowed him to make great strides as an artist and create the groundwork for new pieces like the one at Ferris.
Naegel, living in Manchester (Mich.), continues to accept public commissions for his work. He is considering a future as a college art teacher.
"I was interested in art when I was quite young but got away from it for quite a long time," he explained. "Now, it is a very serious part of my life."
by Ted Halm (8/26/96)