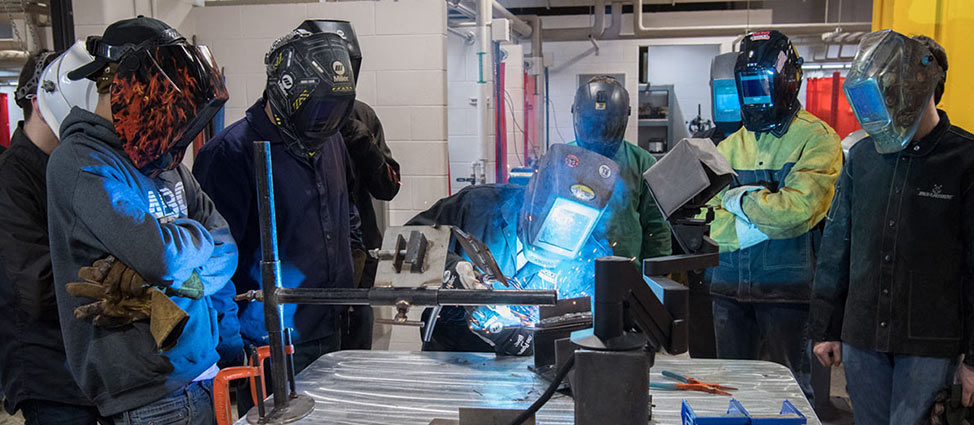 Completed for the fall 2018 academic semester, Ferris State University's Swan Technical Arts Building underwent a significant expansion as part of a State of Michigan capital outlay project approved by former Gov. Rick Snyder. The $30 million project resulted in an increase of laboratory and classroom facilities for multiple Ferris State educational offerings, including the Welding Technology AAS and Welding Engineering Technology BS degree programs.
The construction project resulted in an increase of the Welding Technology and Welding Engineering Technology laboratory spaces to approximately 22,600 square feet. Laboratory facilities, comprised of seven (7) individual, specialized spaces with the latest welding industry equipment and technology, are dedicated to practical hands-on education at all levels of the Ferris welding programs. Classroom resources for lecture discussion now include both a 60-seat room and a tiered 80-seat facility dedicated for theoretical welding education. Both classrooms have desktop electrical power for laptop computer use.
The fall 2021 academic semester is about to begin at Ferris State University! The Welding Technology (WELT) AAS and Welding Engineering Technology (WELE) BS degree program courses are a mixture of face-to-face and online formats. We are open for individual student/family visits during this COVID-19 pandemic period. All precautions will be taken to ensure a safe visit! If you wish to delay an on-site visit, you can still take a Virtual Tour of the newly renovated Swan Annex Expansion.