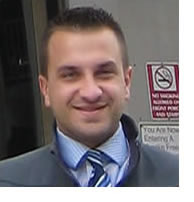 Chad Kasler graduated from Athens High School in his hometown of Troy, MI in 2003. He attended Ferris State University beginning in the Fall of 2003. Chad graduated with an Associates Degree in Applied Science, Automotive Service Technology in the spring of 2005, and completed his B.S.in Automotive Engineering Technology in the spring of 2007. Chad also received certificates in Quality Technology, Automotive Performance Machining, and High Performance Motorsports while completing his B.S.
After graduating from Ferris State University, Chad began working as a Dynamometer Engineering Technologist, with General Motors, fulfilling a contract through Aerotek Automotive, where he designed and performed tests on a chassis dynamometer. Chad worked on a variety of projects at GM, including pre-production electric vehicle testing, high performance testing and fuel efficiency determinations.
Currently, Chad is enrolled in his second year at Cooley Law School where he is concentrating his studies in Intellectual Property law. Following completion of his studies, he hopes to attain a position in the legal department of an automotive manufacturer securing patents for new technologies. Enhancing his technical background with the law degree will open many career options. Chad has been joined at Cooley by Ryan Riemer, also a 2007 AET graduate.