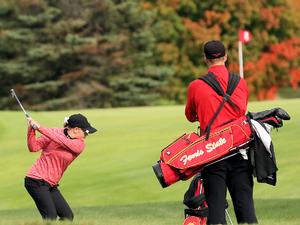 Optometry Continuing Education & Golf
June 22 & June 23, 2016
Registration
Please join us for this summer's MCO Continuing Education and Golf event. Each day there will be two hours of continuing education followed by an afternoon of golf at Tullymore Golf Course and Pilgrim's Run.
Each morning will begin with breakfast hosted by Alcon, accompanied by an informational talk about their products. There are no CE credits for the Alcon presentations.
Golf will be scheduled with tee times. More detailed information about golf will be provided on the day of the meeting. You will also have the opportunity to sign-up with other attendees if you wish to play with them on one or both days.
Wednesday, June 22, 2016
7:30 - 8:00 am
Registration in MCO Atrium
8:00 - 9:00 am
Breakfast lecture hosted by Alcon (no CE credit) in room MCO 210
9:00 - 11:00 am

True Ocular Emergencies
2 hours of Continuing Education

Lillian Kalaczinski, OD
Assistant Professor

Dr. Lillian Kalaczinski is an Assistant Professor at the Michigan College of Optometry and Chief of Primary Care at the University Eye Center. She completed her undergraduate education at Ferris State University and is a 1998 Graduate of the Michigan College of Optometry. She completed a Primary Care Residency at the Illinois Eye Institute, Illinois College of Optometry. Dr. Kalaczinski has broad clinical experience and most recently spent ten years practicing in a Community Health Center in Grand Rapids, Michigan where she was also Director of Vision Services.

11:00 - 1:00 pm
Lunch on your own
1:00 - 6:00 pm
Golf at Tullymore Golf Course (tee times)
6:00 and later
Fun on your own (dinner, drinks, etc.)
Thursday, June 23, 2016
7:30 - 8:00 am
Registration in MCO Atrium
8:00 - 9:00 am
Breakfast lecture hosted by Alcon (no CE credit) in room MCO 210
9:00 - 11:00 am

Treatment and Management of Retinal Disease Utilizing Clinical Technology
2 hours of Continuing Education

Brian McDowell, OD
Associate Professor

Dr. Brian McDowell is an Assistant Professor at the Michigan College of Optometry. He received a Bachelor's of Science degree in Biomedical Science from Western Michigan University with a minor in Applied Ethics. After completing his Optometry degree at the Michigan College of Optometry in 2011, he went on to be the founding resident of Henry Ford OptimEyes' Primary Care residency where he worked in a high patient volume practice as well as supervising 4th year interns.

11:00 - 1:00 pm
Lunch on your own
1:00 - 6:00 pm
Golf at Pilgrim's Run (tee times)
6:00 and later
Fun on your own (dinner, drinks, etc.)