The generous donors who have contributed scholarships to Ferris State University sincerely appreciate receiving an acknowledgment letter from the students who have been selected as recipients of their scholarships. We offer the following guidelines to assist you in writing your own thank you letter:
Readability is key. For this reason, we suggest typing your letter in standard business letter format. You may hand write your letters, but make sure they are legible.
Make use of the spelling and grammar checkers available in your word processing program. Better yet, have someone read and critique your letter for you before you send it out.
Please put 2020/2021 as the date for your letter.
The salutation should read: Dear Donor of ____________________ Scholarship (refer to your scholarship award email)
Include information about:
Name of scholarship you are receiving (________________ Scholarship) refer to your scholarship award email
The program you are enrolled in
Some of the extracurricular activities you participate in
What your future plans are
How this scholarship will help you reach your goals
Any other information about yourself that you feel comfortable sharing. (Donors like to feel as though they know the people they are helping.)
How to Submit Scholarship Thank You Letters:
1) Log into MyFSU, student tab, Financial Aid icon, Secure Financial Aid Document Upload icon.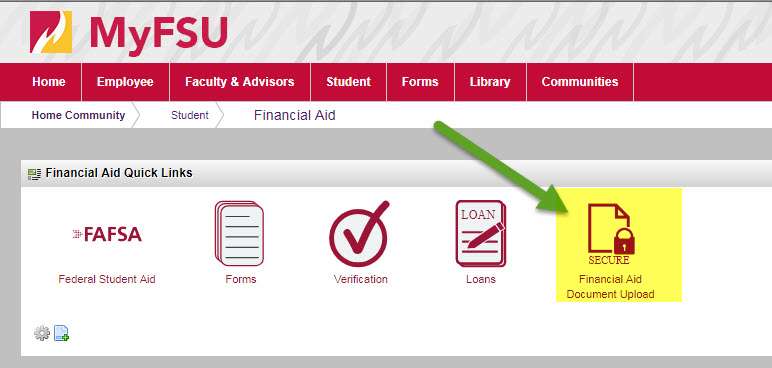 2) Secure Fax: (231) 591-2950
3) Mail or Drop off: FSU Financial Aid, 1201 S. State Street, CSS 101; Big Rapids, Mi 49307