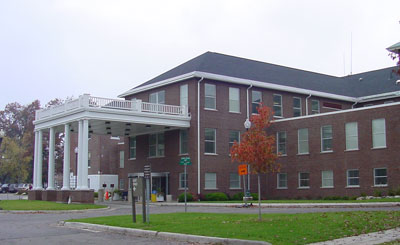 Type: Ocular Disease
Number of Positions: 2
Location: Battle Creek, MI
Mission: The mission of this Veterans Administration optometry residency program is to provide post doctorate clinical experiences resulting in advanced competency in the evaluation, treatment and management of a wide variety of ocular conditions, with a special emphasis on ocular disease. Further, this program provides experience in the interdisciplinary clinical care of patients with systemic health problems. Interactions with the disciplines of laboratory medicine, internal medicine, ophthalmology, and radiology enhance the resident's knowledge of systemic disease and its many ocular manifestations. It also serves to sharpen the management skills of the resident in dealing with specific ocular diseases. Lastly, the optometry residency program offers the opportunity for scholarly pursuits. These include student teaching, written case reports, and oral presentations.
Residency Supervisor:
Molly McGinty-Tauren, OD, FAAO
Battle Creek VAMC
Optometry Clinic 123
5000 Armstrong Road Battle Creek, MI 49015 269.966.5600x32451 (telephone) 269.223.6502 (fax)
[email protected]
Program Information
Goal 1: To provide the opportunity to gain clinical expertise in the areas of ocular disease and the ocular manifestations of systemic disease.

The resident will manage 2000 or more ocular disorders.

The

resident will track these disease entities with a computer based spread sheet.
The resident will be closely supervised by attending optometrist faculty and collaborate on all cases. This supervision will be ongoing, documented in all patient records and thought provoking cases will be elaborated on in weekly meetings.
The resident will read journal articles weekly. Articles should focus on ophthalmic subjects, however broader medical subject areas are encouraged as well.

Records of these read articles will be maintained.
The resident will attend continuing education programs both on and off the VA campus.

The resident will be responsible for keeping copies of CE certificates.
The residents will be strongly encouraged to take the National Board of Examiners in Optometry "Advanced Competency in Medical Optometry" exam at the end of the residency year.

Goal 2: To provide interaction with other professional disciplines the resident is likely to encounter during their professional career

The resident will interact directly and by written consult with other disciplines for example: primary care, neurology, and dermatology.
The resident will interact with ophthalmology by direct consultation, written consultation, and/or observation.
The resident will shadow (rotate through) clinics of other medical disciplines.
The resident will participate in bimonthly interdisciplinary grand rounds with fellow residents and health professional students. To include pharmacy, medicine, and psychology.
The resident will be responsible for ordering appropriate imaging and laboratory tests.
The resident will routinely participate in the management of patients enrolled in the on-station blind rehabilitation program

Goal 3: To gain expertise in advanced technical skills and knowledge regarding systemic disorders

The resident will perform and interpret B-scan ultrasonography, posterior segment and anterior segment OCT.
The resident will become proficient in digital anterior and posterior photography and their interpretation.
The resident will properly perform infiltrative anesthesia while properly excise peri-orbital lesions when appropriate
The resident will become proficient in techniques of physical assessment (including but not limited to: blood pressure, pulse, cranial nerve screening, carotid auscultation)
The resident will demonstrate advanced knowledge in cardiovascular diseases, neurological disorders affecting the visual system and pharmacology and drug side effects
The resident will perform diagnostic and therapeutic anterior segment procedures (including but not limited to: foreign body removal, scrapings and cultures, punctal dilation and irrigation)

Goal 4: To afford the resident the opportunity to pursue scholarly activities

The resident will present case studies at bimonthly grand round meetings
The resident will prepare at least one formal lecture to be geared toward 3rd

year optometry students at MCO and/or SMWOS/WMOA
The resident will prepare a poster of professional quality for presentation at AAO's annual meeting
The resident will precept optometry students in the delivery of patient care.

The quality of clinical teaching will be measured by student evaluations of resident.
The resident will complete three (3*) written case reports of AAO quality for future fellowship application (note:

all cases and attending recommended re-writes are due no later June 30th)

* 2 case reports if ACMO exam taken during residency

Length of Program:

1 year; July 1 until June 30 of the following year

Weekly schedule:

8:00am-4:30pm M-F; Resident is expected to be involved in the direct care of 9 scheduled patients per day; This does not include observation of additional patients with ocular disease and the instruction of student interns in the latter half of the program

On call:

The residents have no on-call duties after hours, however are responsible for the care of emergent add-ons during duty hours.

Clinical Activities:

A large percentage of patients are older males who present with a wide array of ocular disease states. Specifically vascular eye disease, glaucoma, and macular degeneration are commonly encountered.

Program Enrichment:

The resident is encouraged to interact with other disciplines inside and outside the medical center. Opportunities exist to visit Radiology, Laboratory Medicine, Pathology, Primary Care, Pharmacy, and Urgent Care as well as to visit private ophthalmologists in the area.

The resident is encouraged to interact with 4th year externs through student teaching and journal clubs.

The resident must be prepared for teaching, public speaking, and writing opportunities.

The first Friday of every other month is devoted to grand rounds presentations. The resident is an active participant during rounds and also helps prepare student presentations.

Battle Creek VAMC:
The medical center provides both outpatient and inpatient care to eligible Veterans living in the region. Services include comprehensive primary health care, substance abuse treatment, mental health care, nursing home & assisted living care and urgent care.

Instrumentation:

Visucam Zeiss Fundus Camera with Autofluorescence
Cirrus OCT (2014)
Digital Anterior Segment Camera
A/B Scan Ultrasound Unit
Pachymeter
Humphrey Visual Field Analyzer
FDT Visual Field
Tonopen & Icare Tonometer
Hertel Exophthalmometer

Multi-Disciplinary Health Services Within at Battle Creek's Campus:

Psychology
Psychiatry
Neurology
Geriatric Medicine
Rehabilitative Medicine
General Practice Medicine
Nuclear Medicine
Internal Medicine
Dentistry
Clinical Pharmacy
Infectious Disease

The residents will receive $31,965 for the year in training. Resident compensation is determined nationally and is not contingent upon productivity.

The VA will carry professional liability insurance for the resident.

The resident is also eligible for health, dental, vision, and life insurance packages

13 days of annual leave submitted with 60 days advanced notice
All federal holidays off (10 total)
Authorized absence may be grated at the supervisor's discretion for the attendance of conferences or professional development
10 days of sick leave
A small on campus store & cafeteria are available
A medical library is available for resident use which includes online access to multiple journals
Residents may use the full facility gym

Satisfactory completion of all of the programs stated goals and objectives, giving exception only when the program and/or facility could not make appropriate provisions.