Richard Sauve - College of Technology Surveying 1983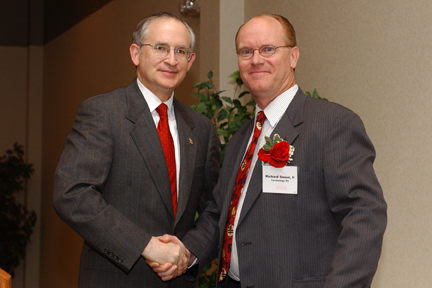 President David Eisler, Richard Sauve
Richard Sauve is an international GPS surveyor holding civil engineering credentials from Michigan Tech and a 1983 bachelor's degree in surveying from Ferris State .
Currently a technical sales representative for Leica Geosystems, Inc., based in Heerbrugg, Switzerland, the support Sauve provides his clients has earned him the company's Heinrich Wild Sales Excellence Award each year from 1998-2001 in recognition of his sales, which were the highest above target in the western hemisphere.
Sauve's surveying career, has allowed him to apply his expertise to work on projects around the world, from Algeria to Norway, Chile to Iran and Abu Dhabi to Beijing--not to mention many protects in the United States. He is also a leader in national efforts to establish Continuous Observation Reference Stations, a project that will help establish new world standards for navigation and precise positioning.
A member of the Michigan Society of Professional Surveyors, MSPS has recognized Sauve with their Presidents Award in both 1999 and 2002.
Sauve is a frequent guest instructor for Ferris' Surveying Engineering program, teaching students how to use the latest surveying technologies. Over the last five years, through his advocacy and activities with students, Ferris' program has enjoyed more than a half million dollars in support, including equipment, accessories and monetary contributions from Leica Geosystems--now a member of the Ferris State Phoenix Society. Sauve also gives of his time to help the student chapter of the Burt & Mullet Surveying Organization and the Lambda Sigma Surveying Honor Society stay involved with surveying professional activities and networks.