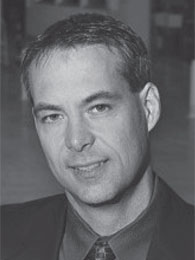 HONORARY DOCTORATE OF BUSINESS AND INDUSTRY
Ken Mooyman is President and CEO of Leica Geosystems Inc. In this position he is responsible for Leica Geosystems Surveying, Machine Control, Scanning, Construction and Geospatial businesses in North and Central America. Having taken on this role in September 2008, his decades of experience in the geospatial industry and extensive business background in international and multicultural environments has allowed him to successfully lead this cutting-edge technology company during extraordinarily difficult economic times.
Mr. Mooyman has been with Leica Geosystems, a global leader in the engineering, construction surveying and imaging markets, since 2001, starting with the company as Vice President, Sales, Leica Systems HDS (High Definition Surveying). The series of increasingly responsible positions he has held since then have touched upon a wide range of global business issues, including research, product development and establishing a presence in emerging markets.
Prior to and during his time at Leica Geosystems, Mr. Mooyman has been a meaningful contributor to mainstreaming the revolutionary technologies of Global Positioning Systems and High Definition Surveying. His knowledge of both technical issues and multi-national sales strategies have allowed him to spearhead Leica's HDS marketing efforts in China, Russia, India, Brazil and Eastern Europe.
Mr. Mooyman began his career in 1981 by founding Ontario 681012 Inc., a Canadian mapping and surveying consulting company that served clients in both North America and the Middle East. In 1985 he became Vice President of Operations with GeoHydro Ltd., a Finnish company that developed the use of GPS for large-scale mapping projects. In 1988, he joined Trimble Navigation Limited as a GPS Specialist, and left in 2000 as Western U.S. and Canadian National Sales Manager.
Mr. Mooyman graduated from the Surveying program at Algonquin College (Canada) in 1981. He also holds a Bachelor of Science in business/marketing from the University of Phoenix (2002) and graduated from the IMD Leadership Development Program (Lucerne, Switzerland) in 2003. He has been a guest lecturer in the civil engineering programs at University of California-Berkeley and Stanford University. He is a current member of the advisory board for CyArk, a non-profit organization focused on preservation of cultural heritage sites.
Ken and his wife reside in Alamo, CA. with their three boys.