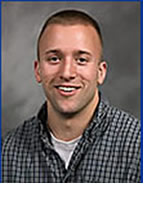 Drawn to AET program at Ferris because of its hands-on, real world applicable curriculum, Chris Meszaros came to the University in the fall of 2004 as a transfer student from Grand Valley State. In May of 2006 he earned an Associates in Automotive Service Technology, and went on to earn a Bachelors in Automotive Engineering Technology in May of 2008.
Chris has served as an engineering intern with both the Chrysler Corporation and General Motors. In late 2008, he accepted a full-time position with Navistar (International Truck and Engine) as a Design/Release Engineer within the Heavy Duty Powertrain group. In this position, Chris designed and developed various components necessary for powertrain integration such as engine mounts, air cleaners, oil fill/check systems, transmission coolers, and radiator plumbing.
Currently, Chris resides in the Brighton, MI area and is employed by General Motors. He serves as a wiring validation engineer at their Milford Proving Ground location, and is responsible for wiring harness validation and full vehicle voltage/current analysis.