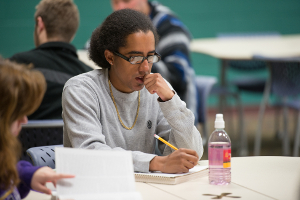 At FSU's Writing Center, we offer free one-to-one writing consultation to all FSU students, in all disciplines, at all stages of the writing process. Whether you are brainstorming or organizing ideas or polishing a final draft, we look forward to discussing your writing with you. We will consult with you on all forms of communication, from essays, lab reports, and research papers to presentations, speeches, cover letters, and personal statements.
The University Writing Center provides in-person, on-site writing consultation. Many of our writing consultants are FSU students while others hold bachelor's and graduate degrees. Our writing consultants are writers themselves, where they are knowledgeable about and committed to teaching and discussing writing. We also offer real-time synchronous online writing consultation for select online programs.
To learn more about scheduling an online appointment or navigating our online real-time synchronous writing consultation, please consult these instructions:
Learn more about our real-time synchronous online writing consultation
Visit Us
We are located in FLITE 120. Please visit our Hours and Location page for details or call (231) 591-2534.
Writing Center Contact Information
Director
Dr. David Marquard
Office: FLITE 125
Office Phone: (231) 591-3032
Writing Center Phone: (231) 591-2534