Ralph Johnson VA Medical Center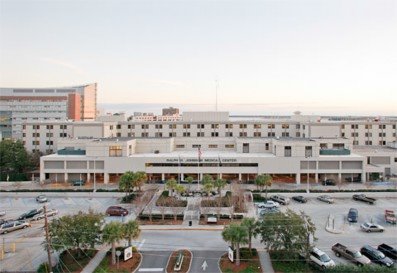 109 Bee Street
Charleston, SC 29401
Phone: 843.577.5011
Fax: 843.789.7037

Student Evaluation of Site
Number of MCO Students per Rotation:
0 Summer
1 Fall
1 Spring
Type of Practice:
Veterans Administration Medical Center; Multidisciplinary, Hospital/Medical
To encourage and empower each optometrist to be the best colleague and clinician for their future career.
This program provides extensive experience in the diagnosis, treatment and management of ocular conditions and disease of the human visual system and how they relate to patient systemic conditions/disease and the overall health of our nation's heroes.

This rotation will develop our optometric physician's abilities to deliver 21st century health care by improving critical thinking skills and emphasizing a "real world" delivery of patient care utilizing all hospital resources including lab services, imaging, all ancillary testing with interpretation, proper examination coding, and optometry's relationship with ophthalmology, primary care and all other health care services provided by our facility. Emphasis will also be placed on billing and coding.
MCO has this site labeled as a Low Vision experience. You will have 2-3 various providers you will work with and the types of low vision exams include: CVA, TBI and from typical ocular disease. All MCO externs leave our rotation with confidence in their low vision skills.

The Optometry portion of the Eye clinic consists of 4 exam rooms and an attending room. We have access to an OCT, Humphrey VF, B-Scan, fundus cameras (both non-mydriatic and mydriatic) and auto-refractor/keratometer. We share the clinic with the Ophthalmology clinic and have a great relationship together. There are subspecialities in glaucoma, oculoplastics, retina and ocular tumors. All urgent care calls come through optometry; we triage and work up the patient with proper referral or treatment according to the exam. This allows for students to see acute disease daily. We are also adjacent to the Neurology clinic. We are slowly establishing a referral basis with them.
Starting October 7, 2021 ALL VA's nationwide are requiring the COVID-19 Vaccination. This mandate has been established by the national VHA Office of Academic Affiliations in conjunction with the CDC, as it has been added to the CDC guidelines web site: https://www.cdc.gov/vaccines/adults/rec-vac/hcw.html

Much like the Influenza vaccine, all Health Professions Trainees (HPT) training in a VA facility must be fully vaccinated or have an exemption filed (medical or religious) with the Office of the Designated Education Officer at the VA using the following VA Form 10-263.

If an HPT is not vaccinated or filed an exemption by October 7, 2021, they cannot come to the VA.
Students will be contacted by Dr. Denton as soon as the list is provided to him. If there are any questions along the way, use the contact information provided.
Check with the site for any health test requirements, CPR, etc. Fingerprints need to be taken at a VA facility within 120 days prior to starting.
In order to ensure a prompt and efficient starting date you may contact Affiliations Coordinator Education Service at 843-577-5011> ext. 7642 or email: [email protected] .
Forms will be sent to each student, however, the following link also provides the information:
Join Our Team
Contact Person:

William Denton, OD, FAAO
E-mail: [email protected]
Clinical Teaching Faculty:
William Denton, OD, FAAO
Kelly Singleton, O.D, FAAO
Cara Smith, O.D
Other Clinical Mentors:
Ralph H Johnson Resident- changes annually on July 1.
Providers are located in the same clinic and available for consults.
Support Staff:
1 Clerk is assigned to the optometry clinic.
2 opticians
Operating Hours:
Monday - Friday, 7:00am-4:30pm or until patients are done. (No Federal Holidays)
Hours of direct patient care for extern per day:
8-9 hours per day (35 - 40 hours week)
Depends on the day.
Number of patients seen by extern per day:
8 to 12 a day
Dependent on patient show rate and efficiency of student.
Become an efficient clinician despite the geriatric patient population
Develop a greater understanding of treatment and management of the major ocular diseases like glaucoma and diabetic retinopathy.
Experience examining ocular diseases you have never seen before with its various presentations.
Establish clinical weaknesses and strengths and proceed to become a better and more confident clinician.
Become confident and proficient with low vision, and learn to value it.
Prepare extern for billing and coding practices through repetition.
Experience a great ophthalmology-optometry relationship.
Become proficient in using a (+) cylinder phoropter.
Fine-tune professional goals and develop a game plan towards obtaining them.
Establish encouragement towards obtaining and fulfilling a residency.
Establish a professional development routine through self-research when indicated.
Become prepared for injections on NBEO Part III through simulation lab.
This rotation is highly recommended for anyone looking at a residency after graduation. Dr. Denton will guide and mentor each student who is interested.
40% Ocular Disease/Acute Disease
30% Primary Care
15% Low Vision
15% Diagnostic testing and observation of surgeries
Not provided by the facility. A housing list has been handed down that previous students and residents have used, will be sent early in the process. Approximate cost: $700 - $900 per month (Higher rent closer to downtown/historic area).
Charleston is rich in history and beauty. Multiple beaches, water events, shopping, nightlife and tourist sites should all be experienced while in Charleston. Additionally, many other vacation areas are only a couple hours away up and down the east Coast. A "bucket list" of restaurants and events is given to each extern prior to the rotation.
Neurology, Infectious Disease, Radiology, Primary Care, Psychology, Psychiatry, Dentistry, Surgery, Dermatology, Podiatry, Internal Medicine, Oncology, Audiology, Urgent Care, GI, Sleep Disorders
Cirrus OCT
Humphrey Visual Field Unit
Pachymeter
Retinal Fundus Non-myd Camera with Fluorescein Angiography capabilities
A/B Ultrasound
Computerized Patient Record System
Computer with Internet Access in every exam room with double monitors
Goldmann and Tonopen Tonometers
Haag-Streit Slit-Lamps
Electronic acuity charts
Fundus Camera
All exams include BIO with condensing lenses (20D) and fundus CL (3 and 4 mirror) Gonioscopy lenses, Foreign Body Kits
"Plus" and "Minus" cylinder phoropters are encouraged to be used by each extern.
We currently maintain 5 students from 4 optometry schools (MCO, Nova, IU, and PCO).
We encourage you to contact our previous MCO externs. Our rotation is best for someone who is qualified and seeking the possibility of doing a residency. Our clinic is not high stress, but we find what is best to get the extern to be as efficient as possible with the most learning from each patient. We do not embarrass our externs with questions in front of the patient, nor do we have a know-it-all attitude. We learn from our patients and enjoy a team approach. We've been told that we allow the extern to practice developing treatment and management plans and that it is a great experience in preparing for post-graduation success.

The low vision portion of this externship (about 15%) should also be seen as non-threatening. We assume you know basics, or limited, and build your confidence with each patient. All MCO externs have agreed they leave very confident with low vision. It doesn't mean they will do low vision in practice, but if low vision is a skill you should learn during your rotations, you may as well be proficient in it. We make low vision fun! The VA purchases all low vision devices we deem necessary. This makes low vision in the VA that much better, since finances are not preventing a patient from getting the needed devices.

We have Grand Rounds every Tuesday and Wednesday from 7:00 - 8:00 am. During these times we have guest ophthalmology lecturers (retina, general/cataract, glaucoma, etc.), Journal Club, as well as each attending, resident and student.

Suggested improvements in student education from MCO before attending this clinic:

Most MCO students have an excellent background of ocular disease and are well-rounded. Evaluate yourself for what your weaknesses and strengths are, clinically and diagnostically, and inform us of your weaknesses so we can concentrate on those areas while you are here. Also, establish what you want to do after graduation and share with us. We would like to assist you in the process - references are always important!

Additionally, it is important to practice describing, forming a differential diagnosis list and then a working diagnosis. This takes skill and practice. MCO has provided didactic learning of the major ocular diseases, however, a text book like "Ocular Differential Diagnosis" by Frederick Hampton Roy, MD, FACS shows all types of differentials that we were never taught. For example, cotton wool spots; over 40 differentials that would cause this sign. Another is angioid streaks; over 35 differentials that would cause it. So much for going on PEPSI MMM.
Please contact Dr. Daniel Taylor, Director of Externships at 231-591-3706 if you have any questions. [email protected]