Michigan College of Optometry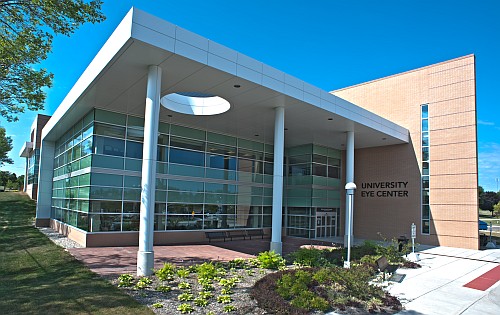 Univeristy Eye Center
1124 South State Street
Big Rapids, MI 49307
Phone: 231-591-2020
Fax: 231-591-3551

Student Evaluation of Site
Type of Practice:
Educational Clinical Program with diverse patient experience
Number of MCO Students per Rotation:
4 Summer
2 Fall
2 Spring
The primary purpose of the clinical program is to teach students the art of optometry and how to apply the science of optometry to an individual with a particular problem.
Please note: MCO has a diverse, specialized clinical experience which can represent lower patient encounters however, provide more difficult patient diagnosis and treatment plans.
Contact Dr. Daniel Taylor 6 weeks in advance of your rotation to verify dates, times, directions, parking, and any other instructions. Report to MCO for orientation on the first day of classes, for instruction on clinical policies, protocol, administrative procedures, etc. Be prepared to provide patient care in the afternoon of the orientation day.
Contact Person:
Clinical Teaching Faculty:
Emily Aslakson, O.D.
Sara Bush, O.D.
Sarah Hinkley, O.D.
Alison Jenerou, O.D.
Lillian Kalaczinski, O.D.
Joshua Lotoczky, O.D.
Brian McDowell, O.D.
Paula McDowell, O.D.
Avesh Raghunandan, O.D., Ph.D
Vandana Rajaram, Ph.D., O.D.
Chad Rosen, O.D.
Jennifer Schad, O.D.
Mark Swan, O.D., M.Ed.
Phil Walling, O.D.
Daniel Wrubel, O.D.
Other Clinical Mentors:
MCO Adjunct Faculty
Residents
Support Staff:
4 Opticians
1 Contact Lens/Low Vision Technician
Operating Hours:
Monday thru Friday: 8:00am-5:00pm

Hours of direct patient care for extern per day:
8 (40 per week)
Number of patients seen by extern per day:
8
To be clinically proficient in all diagnostic techniques.
To assign appropriate assessment and plan to each patient exam.
To improve examination efficiency, knowing when additional tests are indicated.
To learn when to refer and if urgent or emergency
To improve patient interaction skills.
To gain competency in the following clinical services:
Contact Lens - Low Vision (Rehabilitation)
Medical/Surgical
Pediatrics
Mature Primary Care
Primary Care
To learn appropriate coding and leveling of medical records.
Not provided by the facility
Big Rapids, MI: pop. 11,000
60X
Humphrey Visual Field Analyzer
Anterior Segment Photographic Biomicroscope
BIO with condensing lens
Fundus Non-Contact Lenses
A and B-scan Ultrasonography
FDT
Pachymeter
OCT
Fundus Camera (digital)
NCT, Perkins, Tonopen
Fundus Contact Lenses
Gonioscopy Lenses
BAT
Autorefractor
Topographer
Time set aside for clinic/case discussion or formal lecture is set up based on the desires of the student or as deemed necessary by the staff doctor.
Internet access available.
Consultation with Dr. Barrett for ophthalmic surgical services one half day per week.
MCO rotation includes PC, CL, LV, Pediatrics and medical/surgical clinics
If you have any questions, please contact (231) 591-2187 Dr. Sara Bush, Director of Externships - [email protected].