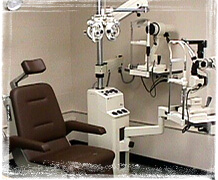 The Michigan College of Optometry at Ferris State University was established in accordance with Act 227 of Michigan Public Acts of 1974 in response to a documented need for optometrists in the state of Michigan. It is the only College of Optometry in Michigan and is one of only 21 in the United States.

The initial class of 21 Michigan students entered the College in 1975 and became the first graduating class in 1979. Each class now consists of 38 students chosen from a national and international applicant pool. The low faculty-student ratio is conducive to excellent educational and clinical training.

The ever-changing curriculum is designed to produce graduates that are qualified to practice full-scope optometric care in any state and practice setting. The College meets or exceeds the standards of the Association of Schools and Colleges of Optometry and is accredited with conditions by the Accreditation Council on Optometric Education and the Higher Learning Commission.

The College of Optometry was housed in Pennock Hall, a six-story building erected originally as a residence hall on the Ferris campus in 1968, and subsequently renovated to serve as the academic, administrative, and on-campus clinical facility for the College. In January 2011, the Michigan College of Optometry moved into a new 87,000-square-foot state-of-the-art facility. The teaching clinic, known as the University Eye Center, has 30 eye lanes with digital slit lamp cameras, digital visual acuity systems, and electronic medical records.

In addition to the on-campus facilities in Big Rapids, Michigan, the College utilizes many off-campus clinical facilities to maximize the clinical education of students. The off-campus clinical facilities are scattered over many states, encompass many optometric specialties and practice settings, and allow students advancing toward graduation to experience the wide diversity of potential optometric career possibilities that exist today.

Ferris State optometry graduates are fully qualified and prepared to pass licensing examinations in any of the fifty states. Ninety-eight percent of the graduating classes between 1979-2014 completed the program and received their Doctor of Optometry degree. Graduates report a high level of satisfaction with their career choice, income and lifestyle. Many alumni speak of the continuation beyond graduation of the many close and rich personal friendships developed while being students in the College of Optometry.