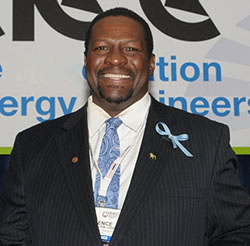 Terrence Rollins, a Ferris State University alumnus and former student-athlete, has been inducted into the American Football Association's Semi-Pro Football Hall of Fame.
Rollins, who lives in Norristown, Pennsylvania, is a Ferris Distinguished Alumnus, having received that honor in 2012. He was involved with the Ferris football program from 1980 to 1983, while pursuing his Associate of Applied Sciences in Heating, Ventilation, Air Conditioning and Refrigeration Technology. Rollins credits Distinguished Teacher and Distinguished Alumnus Dick Shaw with mentorship and guidance during his time on campus, describing him as "an industry father."
"Dick instilled in me a desire to excel and succeed, whether it was in my studies or my athletic training," Rollins said. "I would love to someday support a student-athlete pursuing a career in HVACR, to be like a 'Junior Dick Shaw' and give back to the school so they might gain from some of the paths I have experienced."
Rollins said he answered a newspaper ad looking for football players while working as a refrigeration engineering technologist at Dow Chemical in Midland in 1984, and enjoyed three years with the Bay City Brahmas of the Michigan Charity Football League. Rollins starred as an inside linebacker and earned all-league honors during that time, leading a stingy defense as the Brahmas won 20 of 25 regular season games.
"It is an honor to have the support of hall of famer Bob Kubiak, who was the MCFL's top player when he led the Lansing Crusaders, after playing quarterback at Olivet College," Rollins said. "We were able to scare up game films from 1985 which were offered in support of my nomination to the Hall."
Rollins had a professional tryout with the Detroit Lions in 1987, but enlisted in the United States Army shortly after that, and returned to Ferris to earn his Bachelor of Science in HVACR Engineering Technology in 1993. Following a variety of assignments in the corporate and military ranks, his professional career continues to this day with the Army's Public Works Department in Aberdeen, Maryland, where Rollins is a mechanical engineer.
"Football, whether it was at Cass Technical High School in Detroit, at Ferris or with the Brahmas was a great benefit to me," Rollins said. "I was glad to apply what I learned from the game as a way to bolster my academic and professional experiences. I took the discipline it taught me and used that to help build my emotional intelligence and improve my abilities as a leader."
The American Football Association held its 39th annual Minor League Football Hall of Fame induction dinner at the Pro Football Hall of Fame in Canton, Ohio on June 21, 2019 to wrap up two days of celebratory activities. Rollins enjoyed welcoming teammates from his high school, collegiate and semi-professional ranks at the ceremony.
"I believe this is an honor that should be shared with my teammates because they were a key consideration in making this happen," Rollins concluded.