College of Engineering Technology
HVACR Engineering Technology and Energy Management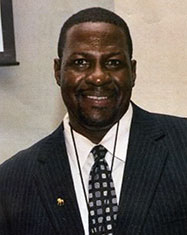 Terrence L. Rollins is the Defense Logistics Agency's site installation energy manager at Philadelphia, Pennsylvania, where he serves as the expert energy engineer, developing local policies, procedures and processes for implementing DLA Energy Resource Management policy, guidance, project submissions and reporting requirements.
Rollins received a commission from the Michigan Military Academy Army National Guard Officer Candidate School Program at Fort Custer in 1994. He served in various positions with Johnson Controls, Inc. and as an energy engineer and project engineer at the Chrysler Technology Center in Auburn Hills from 1991 to 1995. From 1995 to 2000, Rollins served the Baltimore District U.S. Army Corps of Engineers as the punch-list team leader at the DLA Headquarters Building in Fort Belvoir, Virginia. He served as a prospect course instructor, mechanical engineering team leader and commissioning agent at the Walter Reed Army Institute of Research in Silver Springs, Maryland.
Starting in January 2001, Rollins served in several facility outsourcing leadership and management capacities while also serving as an adjunct instructor at Eastern Center of Arts and Technology. In June 2009, he transitioned to government service as the property manager in the Property Management Office with the General Services Administration in Region 2. Rollins served as the New Jersey Service Center's energy manager, region building information modeling champion, LEED® existing building representative and Management Analysis Reporting System team leader. He also served as facilities management subject matter expert on the Peter Rodino Federal Building's American Recovery and Reinvestment Act project and the Region 2 Computerized Maintenance Management System SME, as well as contributing to the National Capital Region BIM focus group for the recently-published Facility Management BIM Guide Series 8.
Rollins' awards include being named the 2010 Executive Professional of the Year for Facility Management and Energy Management by Cambridge Who's Who. Rollins' leadership and participation in the International Facility Management Association educational programs includes serving on the IFMA Facility Fusion Conference Program Committees for both Sustainability/Environmental Stewardship and the Emerging Leader Committee. In 2007 and '08, he was named a Legend in Energy as part of a program sponsored by the Association of Energy Engineers.