What is a Ferris State University Bulldog Ambassador?
FSU Alumni Ambassadors serve as liaisons between the University, their employer and communities. An Alumni Ambassador supports, motivates and encourages other Bulldog alumni in their community by offering personal testimony about their Ferris experience and assists the University with alumni events and networking opportunities. Whether an Ambassador is engaging with alumni in the area or meeting with a prospective student, every experience is an opportunity to impact the future of Ferris State University and be a part of the legacy.
Serving as an Alumni Ambassador is a great way to meet other alumni in your area, build your professional network and stay up to date with University happenings. Check out the video below to hear from Colorado Alumni Ambassador, Luke Wyckoff!
Details about Bulldog Ambassadors
Advocate

Be a positive advocate on behalf of the university.

Be active on social media, reflecting on your student and alumni experiences.

Engage positively with other area alumni and friends on social media.

Be Involved

Participate in guest speaker opportunities and share your Bulldog Story.

Assist in planning local alumni events.

Act as a liaison and extension of the Alumni Office at local alumni and university programs.

Stay connected with your alma mater.
Expand your network through collaboration with university personnel and community organizations.

Enhance your resume through professional development opportunities, guest speaking, and mentorship programs.

Receive an appreciation gift from the Alumni Association.

Be recognized at events, via social media, and on the website.

Stay connected with all things Ferris Alumni.
Be a proud graduate of Ferris Institute, Ferris State College, or Ferris State University.
Engage in active communication with the Alumni Office on a quarterly basis.
Actively engage alumni in your local area.
For more tips on engagement and events, review our Event Planning Toolkit.
Complete the Ambassador Application Form, return completed forms to

[email protected]

and then be approved for your community or region.
Current Bulldog Ambassadors Nationwide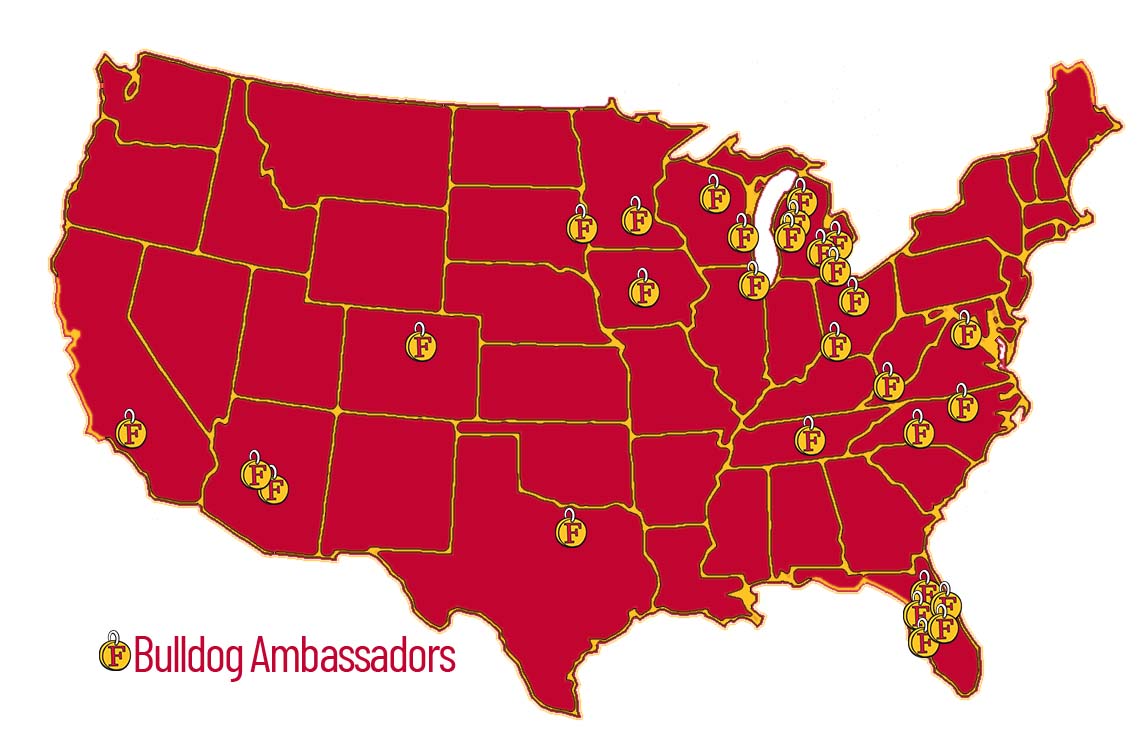 For questions or more information, please contact Alumni Relations Assistant, Lynn Miller at (231) 591-2345 or by email at [email protected].