College of Engineering Technology
Associate in Applied Science – HVACR
College of Education and Human Services
Bachelor of Science – Technical Education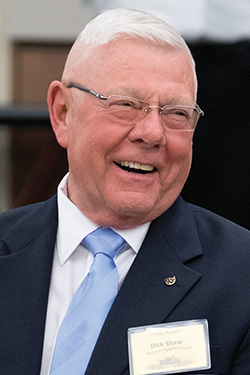 Dick Shaw graduated in 1962 with an associate degree in HVACR from the College of Engineering Technology and in 1971 with a bachelor's degree in Technical Education from the College of Education and Human Services. He proudly served our country in the United States Army and was honorably discharged in 1970.
Shaw enjoyed a long and distinguished career as a Ferris faculty member and administrator and was recognized as a FSU Distinguished Teacher in 1978. He continued his highly successful career as an instructor/consultant in the HVACR industry and has been involved with many state and national professional affiliations including the American Society of Heating, Refrigeration and Air Conditioning Engineers, the Air Conditioning Contractors of America and the Geothermal Heat Pump Consortium.
His commitment and philanthropic support to The Ferris Foundation, his volunteerism and public service within his industry, and his dedication to serving veterans and Ferris State University has spanned over five decades.