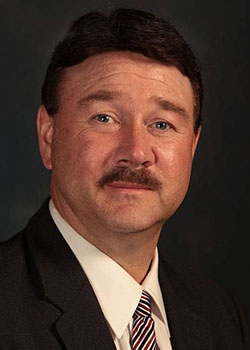 Curt McAllister, a graduate of and an advocate for Ferris State University's Public Relations degree program, has been honored by the Detroit chapter of the International Association of Business Communicators as its 2018 Communicator of the Year.
McAllister has been with Toyota Motor North America since 2007, having joined the automaker as its Midwest product news manager. For the majority of his tenure, he has served as Midwestern public relations manager, overseeing public relations and media relations efforts for the Toyota and Lexus brands across their 14-state Great Lakes and Heartland regions.
"I was blessed to be nominated by Patrick Bishop, a professor and program coordinator for the Public Relations program in Ferris' College of Business," McAllister said. "It is quite an honor to receive the award when you consider that Detroit-based professionals chose to recognize someone from Toyota in this fashion. It is certainly one of the highlights of my career."
McAllister served as editor of the Ferris Torch during his time as a student, earning his Associate of Applied Science degree in Journalism in 1987 and his Bachelor of Science in Public Relations in 1989. He said that the Journalism minor afforded him the opportunity to become established professionally and embark on a successful career.
"While I have spent the last 24 years in various public relations roles, my first job out of Ferris was with the Flint Journal," McAllister said. "I also served as an editor at the Clarkston News, which was a great experience."
McAllister entered the public relations field with Bassett and Bassett, a firm that specialized in supporting clients in the real estate, food distribution and retail industries, before joining the Troy-based John Bailey and Associates Public Relations agency.
"Our team at Bailey grew into one of the largest public relations agencies in the state, and I was able to establish and lead their automotive division," McAllister said. "After becoming a vice president and partner there, I had the opportunity to advance to my regional roles with Toyota."
Detroit's IABC chapter said McAllister's selection was based in part on demonstrated communications excellence, as he has received nearly 90 awards during his tenure in the public relations field. Gary Spondike, chair of the Communicator of the Year committee, noted that McAllister's leadership and commitment to advancing the communications process in an organization were evident during their candidate review.
"Curt's depth of experience, significant professional accomplishments and commitment to the profession make him a role model for others in the field," Spondike said.
McAllister is a 2011 Ferris Distinguished Alumnus Award winner who continues a long-standing commitment to offering his perspective to Ferris students and in support of the Public Relations program.
"It is an honor to return to Big Rapids each year and guest lecture in their classes," McAllister said. "Ferris was the first program in Michigan to be accredited by the Public Relations Student Society of America, and I have been honored to serve as a 'blue chip' liaison for the recertification process every three years. I am always happy to offer my assistance and amplify the overall excellence of Ferris' Public Relations program."
McAllister is also a member of the Ferris Alumni Association board, having served multiple three-year terms in support of its initiatives. Director of Alumni Relations Brandi Behrenwald said that McAllister's passion for the Legacy Scholarship is a critical component of that program's success.
"Curt makes a significant contribution as a donor and advocate for these awards," Behrenwald said. "We also welcome his insights as a member of the scholarship candidate review committee."