College of Business
Public Relations
Journalism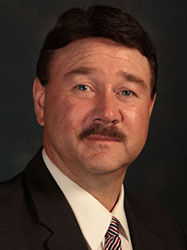 Curt McAllister graduated from Ferris State with an associate degree in Journalism in 1987 and a bachelor's degree in Public Relations in 1989, both of which helped guide him into an extraordinary career in public and media relations in the automotive industry. Curt currently serves as the Midwest public relations manager for Toyota and was formerly vice president and partner at John Bailey & Associates Inc., where he established the agency's automotive division. In his 15-year career, Curt has received more than 80 public and media relations awards. He is an active member in the Public Relations Society of America and virtually every auto-related press and public relations association and council.
Responsible for all public and media relations for Toyota, Lexus and Scion brands in the 14-state Heartland and Great Lakes region, Curt was recently on the public relations front lines as part of the team that has successfully guided Toyota through their highly-publicized product safety issues. Currently, he is serving on a team to work through Toyota's challenges resulting from the Japanese earthquake and tsunami. As an active member of the FSU Public Relations Advisory Board, Curt has served as a guest lecturer for Ferris on numerous occasions, about these subjects and other current and relevant public relations case studies.
Curt is an engaged community member at home and at Ferris, currently volunteering for the CATCH program, which supports inner-city youth sports; the Think Detroit PAL program, which helps Detroit children with academic, leadership and athletic-based development programs; Common Ground, which helps mentally ill and homeless persons in the Pontiac area; and the St. Andres Society of Detroit. In 2006, he was elected by his fellow alumni to serve on the FSU Alumni Association Board of Directors, and most importantly, he enjoys coaching his sons in the Lake Orion Youth Baseball League.