Michigan College of Optometry (MCO) has a long history of student love stories and engaged third year students Cole and Olivia are one of them! In this feature, we asked both to share a bit more about themselves and their connection at MCO.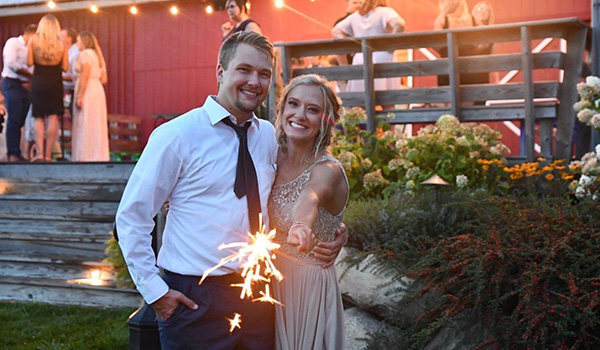 Cole is from Roscommon, MI and graduated from Roscommon High School in 2016. At Ferris State University, he studied Biology - Pre-Optometry during his undergraduate education. Olivia is a Yooper from Iron Mountain, MI and graduated from Iron Mountain High School in 2016. At Michigan State University, she studied Human Biology. Olivia and Cole are both a part of Michigan College of Optometry's Class of 2023.
A Conversation with Cole and Olivia
Tell me a little about your paths into Optometry school. Why did you choose to attend MCO?
Olivia: There was a health professions week in high school where an optometrist presented to my class. I always knew I wanted to work in the medical field, but I was unsure of which profession. This presentation piqued my interest and I decided to look more into optometry. I was involved in the pre-optometry club at MSU, and I also volunteered at Care Free Optometry which solidified my decision to pursue optometry as a career. I chose MCO because of the tight-knit community that it provides. MCO fosters an atmosphere that allows you to make personal connections with your peers and faculty.
Cole: I had a similar experience to Olivia, as I first became interested in optometry in high school following a career day. I chose to come to Ferris for my undergraduate studies because I knew I wanted to stay in Michigan for optometry school. During undergrad, I was a member of the pre-optometry club and I also worked at MCO. During the summers, I worked at a local office in lens fabrication and as an optician/technician.
How do you find balance between your relationship and the heavy demand of Optometry school?
Olivia and Cole: Having each other to go through optometry school has been our biggest blessing. It's nice to have someone that knows exactly what you're going through, and who is there to support you along the way. There are days where we each struggle to stay motivated, but it always seems as if the other person is right there to lean on. School has been a growing experience for our relationship. It provides many challenges, but we are so thankful to be going through it together. We stress and decompress together.
What are some fond memories you have of optometry school so far?
Olivia and Cole: Our favorite memories of optometry school include our first refractions, our first time seeing in stereo with fundus biomicroscopy and BIO, and finally seeing our first patients. We love having a small class where we have been able to make deep connections with our classmates. One of our first memories together was the volunteer trip to Cedar Point for SVOSH. Our favorite memories outside of school include intramural basketball, ski trips to Caberfae, Friday After Class (FAC) at Star Shooters, walleye fishing, summer days on Lake Michigamme, floating the Muskegon River, the Cycle Pub in Traverse City, and lots of road trips to see our families.
What kind of involvement do you have within the optometric community?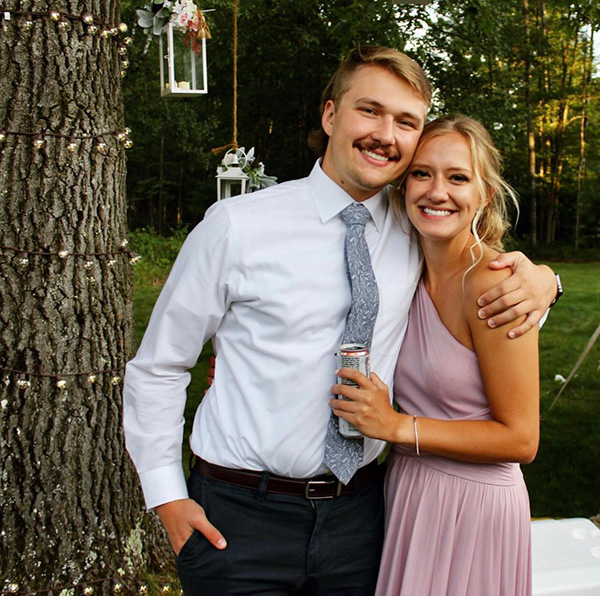 Olivia and Cole: We are both members of the AOSA, MOSA, AAO, and SVOSH. For SVOSH, we have been fundraising by volunteering our time at different events. We are hoping to go on a SVOSH mission in the spring of 2022 to provide eye care to those in need.
What are your aspirations after Optometry school?
Olivia and Cole: We hope to be able to maintain a balance between work and life where we can be involved in the lives of our families and friends. We also plan to get involved in the community that we settle in. Our goal is to someday own a private practice together.
If there is one thing you can say to incoming MCO students, what would it be?
Cole: School is important, but so is your mental health. Take breaks from school if you feel you need to. There's always more time to work and to study, so take advantage of the time that you can in order to enjoy yourself. There are ~37 other people going through the same education, as well as many classes of students before you. This is much different than undergrad. Don't be afraid to ask questions or look for advice.
Olivia: Enjoy your time in optometry school. These years have been the hardest, yet most rewarding and best years of my life. I've made lifelong friends and colleagues. It's such an awesome experience to be surrounded by so many like-minded people.
If there is one thing you can say to MCO alumni, what would it be?
Olivia and Cole: Thank you to the MCO alumni that have mentored prospective optometry students! We would like to specifically thank: Dr. Rob Aubry ('95), Dr. Lindsay Wade ('13), Dr. Tyler Chartier ('15), Dr. Ryan Brown ('09), Dr. Jeff Koets ('92) and Dr. Mitch Dobrzelewski ('88). Your mentorship has provided us with invaluable experience. We would also like to thank our faculty and staff at MCO. We couldn't ask for better optometrists to learn from.
When is the wedding?
Olivia and Cole: Summer of 2023