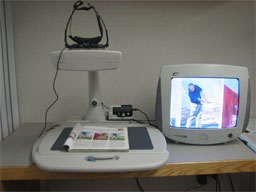 Low vision devices are designed to magnify images so individuals who are visually impaired may have the opportunity to read normal size printed materials such as the local newspaper. Low vision devices are also called magnifiers or aids. Magnifiers can be designed as handheld, spectacle mounted or electro-optical. The low vision provider's goal is to show a person who is visually impaired that they can get improved vision at either distance or near using devices that magnify.
For comprehensive vision and eye care (including diabetic eye evaluations) in Big Rapids please see Patient Care at MCO
Saint Mary's Mercy Medical Center is located in Grand Rapids, MI
Appointments are by referral only. Have your doctor's office contact us at.
Diabetes and Endocrine Center
MCO, Diabetic Eye Clinic
300 Lafayette SE Suite 2045
Grand Rapids, MI 49503
phone
(616) 685-3098
fax
(616) 685-3095