Wyoming Community Based Outpatient Clinic

5838 Metro Way
Wyoming, MI 49519
Phone: 616-249-5300



Number of MCO Students per Rotation:
4 Summer
4 Fall
4 Spring
Type of Practice:
Veterans Administration Health Care Center; Multidisciplinary- Primary care/Ocular disease
ADDITIONAL HEALTH REQUIREMENTS BEFORE ROTATION:
The following must be verified through documented confirmation or through student attestation. There are vaccine waivers available if needed for religious or medical reasons.
COVID 19 Vaccine
Hepatitis B Vaccine
Influenza Vaccine
MMR Vaccine
Varicella Vaccine
TDAP Vaccine
The optometric externship at the Wyoming VA Health Care Center will provide clinical education in medical optometry. The program will provide the challenging cases and attending expertise needed to help develop the student's ocular disease skills. An interdisciplinary approach for providing care for patients with systemic disease and ocular complications will be emphasized.
Starting October 7, 2021 ALL VA's nationwide are requiring the COVID-19 Vaccination. This mandate has been established by the national VHA Office of Academic Affiliations in conjunction with the CDC, as it has been added to the CDC guidelines web site: https://www.cdc.gov/vaccines/adults/rec-vac/hcw.html

Much like the Influenza vaccine, all Health Professions Trainees (HPT) training in a VA facility must be fully vaccinated or have an exemption filed (medical or religious) with the Office of the Designated Education Officer at the VA using the following VA Form 10-263.

If an HPT is not vaccinated or filed an exemption by October 7, 2021, they cannot come to the VA.
Dr. Kerns will contact you via email 6 -8 weeks prior to the first day of the rotation to verify dates, times, directions, parking, specific health test requirements, and any other instructions. The email received will contain important information regarding in-processing with the VA system. There will be forms to be completed and returned to the HR department and also need to schedule fingerprinting. This will all need to be completed well before the first day here.
Contacts
Joy Kerns, OD, FAAO - Wyoming VAMC
EXT: 30392 [email protected]
Faculty and Staff
Clinical Teaching Faculty
Douglas Coon, OD, FAAO
Joy Kerns, OD, FAAO
Jordan Kuipers, OD, FAAO
Scott Kass, O.D.
Justin Ullrey, O.D.
Other Clinical Mentors
Wyoming VA Ocular Disease Resident
Support Staff
Faculty Bios:
Dr. Coon, graduated from the Michigan College of Optometry in May of 2001 and then completed a residency in ocular disease at the Battle Creek VA Medical Center.
Dr. Kerns, graduated from the Michigan College of Optometry in May 2004. Following graduation, she completed her residency training in ocular disease at the Battle Creek VA Medical Center in June 2005.
Dr. Kuipers, graduated from the Michigan College of Optometry in May 2011 and then completed his residency training at the Grand Rapids VA Outpatient clinic in 2012.
Dr. Kass graduated from the Michigan College of Optometry in May 2014. He completed residency training at the Wyoming Community Based Outpatient Clinic in June 2015.
Dr. Ullrey graduated from the Michigan College of Optometry in May 2019. He completed residency training at the Wyoming VA Community Outpatient Clinic in June 2020.
Monday - Friday, 8:00 am - 4:30 pm (No Federal Holidays)
Hours of direct patient care for extern per day: 8 (40 per week)
Number of patients seen by extern per day: 9
The intern will be actively involved in several hundred patient encounters through direct care and observation.
The intern will assist in the care, follow up, and appropriate referrals of their patients under the supervision of the attending optometrists and resident.
The intern will be involved in an interdisciplinary approach to eye care and participate in a working relationship with internal medicine and other associated specialties to ensure total care of the patient.
The intern will be responsible for appropriately suggesting and performing/interpreting special testing involved in eye care including visual fields, optical coherence tomography (OCT), pachymetry, gonioscopy, and digital photography.
The intern will be responsible for appropriately suggesting imaging (CT, MRI, carotid Doppler) and laboratory tests and consulting with other physicians when indicated.
The intern will become proficient in examination of ocular structure utilizing a variety of techniques including contact and non-contact lens examination and scleral depression.
Not provided by the facility
Approximate cost: $1000 -$1500 per month (Many commute from Big Rapids)
Located on the banks of the Grand River, Grand Rapids is rated among the top cities in the U.S., and combines sophisticated charm with midwestern friendliness. Known for being safe and clean, it's a "walking" city. The downtown features a major new convention center with five star experiences: hotels, restaurants, and relaxation. Minutes away from spectacular Lake Michigan beaches and beach towns, Grand Rapids is known for its major art and cultural events, plays, museums, and a world-class botanical garden.
Visit the Experience GR website to learn more.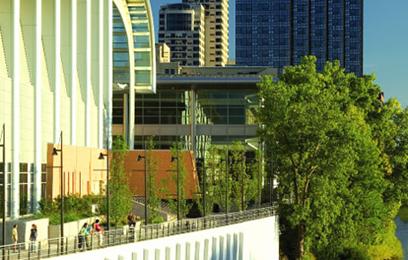 Audiology
Cardiology
Dentistry
Dermatology
Gastroenterology
Geriatric Medicine
Infectious Disease
Internal Medicine
Laboratory Services
Pharmacy
Physical Therapy
Psychiatry
Psychology
Radiology
Social Work
Wound Care
Neurology
Well equipped with the latest in ophthalmic equipment.
OCT
Sonogage Pachymeter
Computerized Patient Record System
Computer with Internet Access in every exam room
Goldmann, NCT, and i-Care Tonometers
Fundus Camera
Electronic acuity charts
Haag-Streit Slit-Lamps
Octopus visual field units
The student will participate in Ocular Disease Grand Rounds
The clinic has a Residency Program in Ocular Disease
If you have any questions, please contact (231) 591-2187 Dr. Sara Bush, Director of Externships - [email protected].