Northern Indiana VA

2121 Lake Avenue
Fort Wayne, IN 46805
Phone: 260-460-1442
Fax: 260-421-1823

Student Evaluation of Site
Type of Practice:
Veterans Administration Hospital and Outpatient Clinic
Mission:
In support of one of the three major missions of the Veterans Health Administration, the Fort Wayne campus of the NIHCS participates in the training of fourth year optometry students.
The optometry program is dedicated to providing a high level of clinical training and didactic education to its students so that upon graduation, they are prepared to deliver quality ophthalmic care to the public.
Number of MCO students per rotation:
1
Orientation Instructions:
Starting October 7, 2021 ALL VA's nationwide are requiring the COVID-19 Vaccination. This mandate has been established by the national VHA Office of Academic Affiliations in conjunction with the CDC, as it has been added to the CDC guidelines web site: https://www.cdc.gov/vaccines/adults/rec-vac/hcw.html

Much like the Influenza vaccine, all Health Professions Trainees (HPT) training in a VA facility must be fully vaccinated or have an exemption filed (medical or religious) with the Office of the Designated Education Officer at the VA using the following VA Form 10-263.

If an HPT is not vaccinated or filed an exemption by October 7, 2021, they cannot come to the VA.
Students will be contacted by Julie Adams 10 weeks prior to rotation with requirements and more details before starting the rotation.
If you have any questions, please contact (231) 591-3706 Dr. Daniel Taylor Director of Externships - [email protected] .
Contact Person:
Julie Adams, Academic Affiliations
E-Mail: [email protected]
Clinical Teaching Faculty:
Other Clinical Mentors:
Matthew Anderson, O.D., FAAO
Aaron Case, O.D. , FAAO
Lovelee Sayomac, O.D., FAAO
Primary Care/Ocular Disease Resident (2)
Support Staff:
5 Ophthalmic Technicians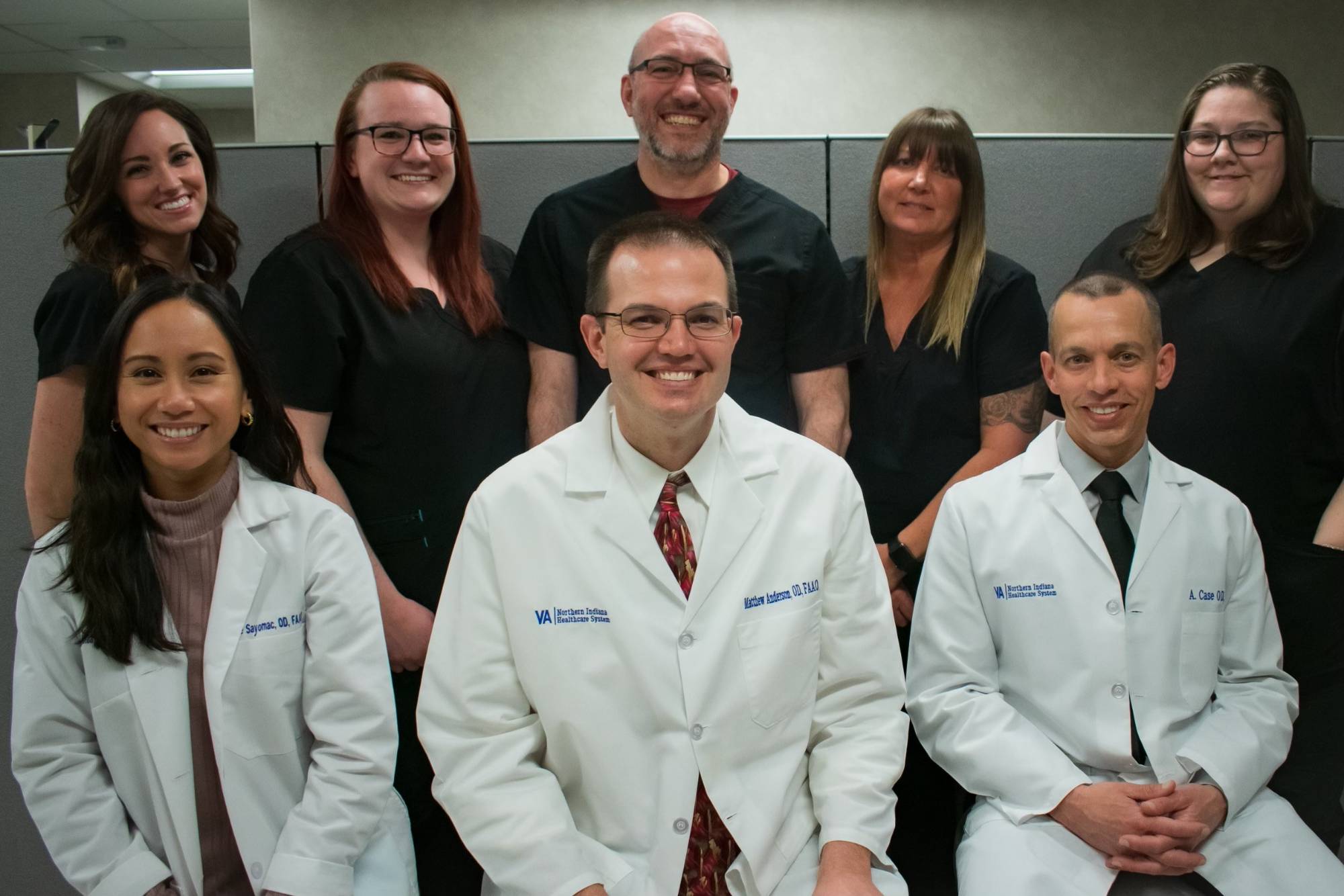 2 Scheduling Clerk
Optical with 2 opticians
Schedule:
Operating Hours:
M-F, 7:30am-4:00pm
Hours of direct patient care for extern per day:
8 (40 per week)
Number of patients seen by extern per day:
6-9
Educational Objectives:
To improve basic physical, psychophysical, and medical science foundations.
To further enhance and develop new technical clinical skills and testing protocols by providing clinical experiences with appropriate guidance by the faculty.
To further enhance clinical assessment, judgment, and management capabilities.
To improve knowledge of psychosocial factors, i.e. adjustment to vision loss or memory loss which affect patient attitudes and responses influencing patient understanding and compliance, especially in the geriatric population.
To expand professional communication and interdisciplinary (medical and non-medical) interaction capabilities.
To learn methods for continued professional development.
Housing:
Not provided by the facility
Approximate cost: $450/mo.
Community:
Parks, Museums, Minor League Baseball, Hockey, Basketball, Concerts, Shopping, University, Symphony
Indianapolis: ~2 hours away; Chicago: ~3 hours away
Miscellaneous:
3 hours each week is set aside for formal lecture/conference
Reference library available for student use
Internet access available
The clinic accepts one student from MCO and one student from Indiana University
Multi-Disciplinary Health Services:
Psychology
Primary Care Physicians
Physician Assistants
Nursing
Radiology
Other specialties as needed

Social Work
Audiology
Nurse Practitioners
Pharmacy
Lab
Auxiliary Equipment:
OCTa
Stratus time domain OCT
Anterior Segment Photographic Biomicroscope
IOL Master
Auto Lensometer
Handheld Slitlamp
BIO with condensing lens
B and A Scan Ultrasonography
FDT fields
TV?VCR - educational videos
Automated refracting station
Tonopen

Humphrey Visual Field Analyzer II, model 750
High Resolution Ultrasound Biomicroscopy and immersion A-Scan
Ultrasound Corneal Pachymeter
Gonioscopy Lenses
Fundus Non-contact Lenses
YAG, Argon, SLT, and CO2 Lasers
Autorefractor/Autokeratometer
Autorefractor/Autokeratometer
Autorefractor/Autokeratometer
Tangent Screen