Sarnia Optometric Clinic- Canada

PC/Health/PEDS/ CL
Site:
Dr. Gordon Warren and Associates
258 Wellington St.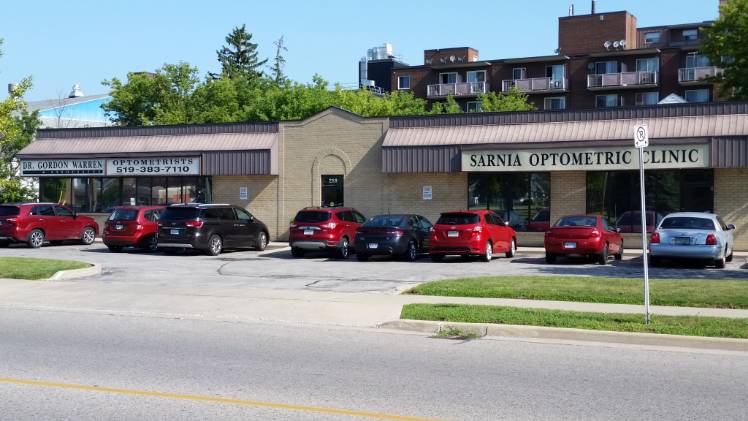 Sarnia, Ontario, Canada N7T 1G8
Phone: 519-383-7110
Fax: 519-383-1390

Student Evaluation of Site
Type of Practice:
Private Practice- full scope including dispensary
Mission: Provide the best "real-life" optometric practice experience with many
full and partial exams per day.
Orientation Instructions:
Please contact Dr. Warren 6 - 8 weeks prior to the first day of the rotation to verify dates, times, directions, parking, required health tests, and any other instructions.
If you have any questions, please contact (231) 591-3845 Dr. David Durkee, Director of Externships - [email protected] .
Faculty:
Contact Person:
Gordon Warren, O.D.
519-383-7110
E-mail: [email protected]
Clinical Teaching Faculty:
Dr. Gordon Warren
Other Clinical Mentors:
Support Staff:
Optometric Technicians/Assistants- 4
Office Staff Personnel - 1
Medical Records Personnel - 1
Schedule:
Operating Hours:
Monday - Tuesday - Thursday: 8:00 am - 5:30 pm
Wednesday and Friday: 8:00 am - 5:00 pm
Hours of direct patient care for extern per day:
8 (40 per week)
Number of patients seen by extern per day:
8 - 10
Education Objectives:
Full Scope primary care externship, including pedicatrics.
First aid provision
TPA's
Work in close conjunction with Opthomologist

Continuing education with local opthomologist
BW vision assessment
Therapy review with CNIB (Canadian National Institute for the Blind)
Scope of the Externship: Primary Care Full Scope- contact lenses, disease management. Minor amount of low vision
rehabilitation.
Housing:
Housing is provided to the extern by the facility at no cost, right next to the main clinic.
Community:
Sarnia, Canada - 75,000 population
The climate is the same as Ferris State University; waterfront communities, local theatres.
Miscellaneous:
Cooperation with Low Vision Clinic
Close interaction with local ophthalmic surgeons, GP's and pharmacists.
Reference library available for student use
Internet access available
Auxiliary Equipment:
Fundus camera
Digital anterior segment camera
OCT Cirrus
Anterior Segment OCT
NCT (2007)
Matrix- Zeiss-Humphrey
Autorefractor - Topcon KR8900
Corneal Pachymetry
Tonometer- NCT (x2) Reichert 7
Fundus contact lenses-superfield, 90 D, 60D, 20 D
Gonioscopy lenses- Goldman 3 mirror