File management is one of the most important and also the one of the most overlooked aspects of any digital profession. When it comes to digital signage, proper file management saves a lot of time and also keeps your files organized.
Primary File Management - M Drive
In order to put any content on the digital signs around Ferris' campus, you must be connected with the campus-wide file system called the M Drive.

Within the M Drive you will need to choose the FSU folder, then the folder of your department. For my example I will click on the AA folder at the top.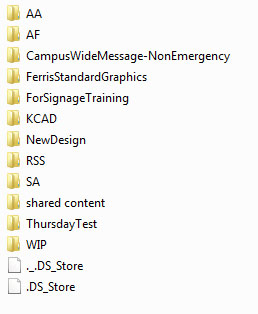 Within that folder, you will find another folder that is specific to your building or selected digital sign. For my example I am going to click on the IRC folder, as those are the signs I run.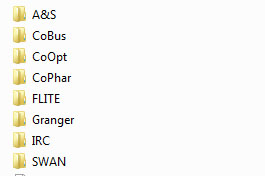 Inside your building's folder, you should have the files arranged in a neat, easy to find way. If an outsider or new employee were to view your files, they should not have a hard time of it. Generally a building's digital signage folder will have a Headers file, Horizontal content (which are the horizontal posters you will display), a Live Data section (for content that updates either automatically or manually through an Excel file), and a Vertical file for vertical content (which are the vertical posters you display). My building's folder includes extra files for things I have added throughout the years, like movie trailers.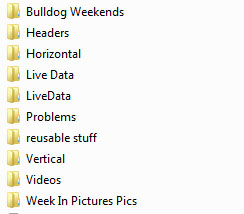 Secondary File Management - Content Manager
The way you manage your files within Content Manager should look very similar to the management of files within your computer's file management system. You might have another folder for widgets such as the date and time, the weather, and any text elements you have created within the application.