2018 Pacesetter Award Winner: Elizabeth Wirgau
Kendell College of Art and Design, Interior Design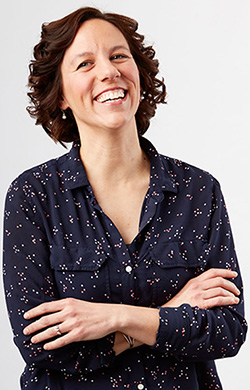 Elizabeth Wirgau received an associate degree in Architectural Technology in 2004 and a Bachelor of Fine Arts in Interior Design from Kendall College of Art and Design of Ferris State University in 2006. During her time as a student, she was recognized as Architecture Student of the Year, and also she served as president of the student chapter of AIAS. She was an Insight manager and interior designer for Byrne Electrical Specialists in Rockford, Michigan.
She was active in several professional organizations including Inforum, the American Institute of Graphic Arts, and the American Society of Interior Designers, which recently recognized Elizabeth with a "One to Watch" award for her rising leadership in interior design and her ability to push the profession's boundaries.
Wirgau was awarded two design patents and one utility patent for new product development, led a LEED certification for office renovation, introduced new material finishes to products that have received recognition, and completed numerous certifications and other education programs. She was an active volunteer with her church community, Friends of the Ravenna Library, Down Syndrome Association of Michigan, and the Michigan DNR. She also provided advice/advocacy for the Ferris Architectural Technology program, including hosting classes for presentation/tours and project reviews at her office.
Before she could accept this award, she passed away on June 24, 2018. Elizabeth and her husband, Chris, also a Ferris alumnus, were married for sixteen years. She left an indelible impression on everyone she met.