2013 Pacesetter Award Winner: David Stevens
College of Business, Marketing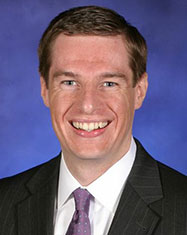 David Stevens is manager of Technology Assessment and Capital Planning for Aramark Healthcare Technologies, having worked his way up through the company's Food Service division. A 2008 Marketing alumnus, Stevens has moved rapidly ahead in his career despite the economic challenges of the subprime mortgage crisis that began the year he graduated.
In his service as student United Way campaign manager at Ferris from 2006-07, Stevens demonstrated the leadership skills that have made him successful in management early in his career. An earlier indication of Stevens' drive to succeed was in 2001, when he became an Eagle Scout. The Eagle Scout's motto is "Once an Eagle, Always an Eagle." – for Stevens, it is also true that he is "Once a Bulldog, Always a Bulldog."
The most recent graduate to serve on a Ferris State University Board of Directors, Stevens continues a pattern of service to his alma mater and community that began with his volunteerism and active involvement in student government at Ferris.