2006 Pacesetter Award Winner: William E. Davis
College of Education and Human Services, Criminal Justice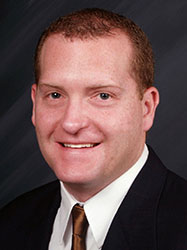 William E. Davis, vice president of security services for Wachovia Corporation, earned his Bachelor of Science degree in Criminal Justice from Ferris in 1994. Davis designs and develops innovative security technology for future application at Wachovia, the fourth largest U.S. bank, at their headquarters in Charlotte, N.C. Davis' pursuit of education led him to earn an MBA degree from Elon University in 2003. He also has taught personal and professional goal-planning to groups in Durham and Chapel Hill.
The many volunteer and humanitarian activities Davis has undertaken include work at the Chapel Hill, N.C. Ronald McDonald House, as well as Operation Christmas Child in Charlotte. He helped with organizing the Friday Football Classic and GlaxoSmithKline Holiday Invitational Basketball Tournament, which raised approximately $100,000 annually to benefit the Triangle Educational Scholarship Foundation. He and his wife, Kathryn, have completed five marathons and numerous running and biking fund- and awareness-raising events for disease prevention and natural resources preservation.
A member of the American Society of Industrial Security and Toastmasters International, Davis has served in leadership positions in both organizations.