2008 Pacesetter Award Winner: Michael Oxner
College of Business, Advertising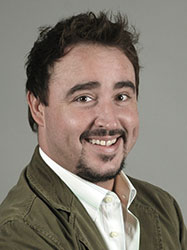 As Vice President and Associate Creative Director for Campbell-Ewald Advertising, Michael J. Oxner has played an integral part in such high-profile Chevrolet vehicle and service launches as the Chevy HHR, Tahoe, Avalanche, Silverado and OnStar vehicle diagnostics.
With a decade of experience to go with his advertising degree from Ferris, Michael has worked in a huge range of traditional and new media, including television, radio, print, online, wireless and even a 40x80-foot animatronics sign in Times Square. He has helped Campbell-Ewald secure new top-tier accounts including Alltel, Michelin and Ghirardelli Chocolate, as well as re-signing the United States Navy to a new five-year contract.
His extensive volunteer efforts include being a Big Brother, taking part in United Way's Adopt-a-Family program, and participating in the Kids for Camp program. He maintains close ties with his alma mater by being a guest speaker for Ferris' Advertising, Marketing and Public Relations groups and clubs, and being a member of the FSU Alumni Advisory Board for E-Commerce.
Michael lives in Royal Oak.