College of Business
Bachelor of Science in Insurance
Bachelor of Science in Business Administration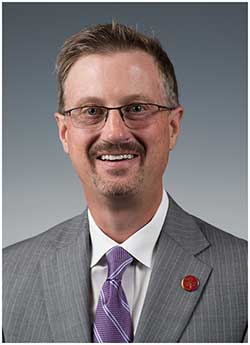 Kevin Cross is partial owner of more than 15 entrepreneurial companies started in Grand Rapids and has been teaching and participating in continuing insurance education for 15 years. A 1986 graduate of the College of Business, Cross was the first commercial underwriter in Citizen Insurance's history to begin work directly out of college.
Licensed by the State of Michigan at age 19, during his college years, Cross served as an active member of Gamma Iota Sigma for three years, serving as president of the organization for two years. In 1985, the chapter was awarded the Bowers Award as the organization's best U.S. chapter for helping community members and partnering with insurance companies. In 1995, at the age of 31, Cross purchased Linkfield & Cross Agency Inc. and still serves as its president.
In 1996, Cross also became a co-founding member of the Michigan Insurance Company, serving as advisor to the CEO. During his extensive career, he has purchased four other insurance agencies. Additionally, he has served as president of the Comstock Park Rotary Club and the Grand Rapids chapter of Toastmaster. He was one of the earliest supporters of Father Sirico and the Acton Institute for the Study of Business and Religion. The Grand Rapids organization is now recognized as a leading research institute in its field and supports scholars worldwide.
Cross further volunteers with Boys Club of Grand Rapids, God's Kitchen of Grand Rapids, Mel Trotter Mission of Grand Rapids, Women's Resource Center of Grand Rapids, Redeemer Presbyterian Church, Ada Bible Church, and has sponsored education for multiple children in Africa from grade school to college.
Cross is highly active with his alma mater, serving as a College of Business advisory board member and chairman. He is the youngest-joining President's Club member to date (age 23), and has served as president of the Ferris Alumni Board from 2002 to 2004 and chairman of The Ferris Foundation Board from 2011 to 2013. Most recently, he helped restart the Insurance and Risk Management program at Ferris and serves on its advisory committee.