College of Arts, Sciences and Education
Bachelor of Science in Applied Biology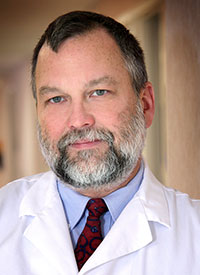 Kenneth Friar graduated from Ferris State University's College of Arts, Sciences and Education in 1984. He is a physician, and co-owner and board member of iNDIGO Health Partners, a leading private hospital medicine group founded by physicians employed at Munson Medical Center in Traverse City, Michigan, where he resides. With his brother, David, he has led advancements in efficiency, productivity and quality in one of the largest provider-owned hospitalist programs in the United States. It provides inpatient healthcare at six community hospitals that serve more than 20 counties, many of them rural and underserved.

Previously a president, board member and hospitalist of Hospitalists of Northwest Michigan, the private hospitalist group that became iNDIGO Health Partners under his leadership, Friar also co-founded Hospital Solutions of Michigan and served as its vice president. He also served as a section chief and stroke unit director for Munson Medical Center, as an internist at Thirlby Clinic of Traverse City.

Friar is a senior fellow of hospital medicine, a board member of the Society of Hospital Medicine, and a member of the American Medical Association. He has served on Munson Medical Center's Medical Executive, Primary Care, Diabetic Initiative and Facilities Planning committees, on its Physician Informatics Group and Computerized Provider Order Entry Assessment Team, and on numerous special-focus and ad hoc committees and subcommittees.

He has been honored with Munson Medical Center's James Stephen Quality Award five times, twice for top Munson Medical Center physician, and has been named a top quality leader at Munson Medical Center a record six times. Friar's leadership has empowered hospital physicians, as hospitalists, to apply multidisciplinary approaches to meet the unique needs of hospitalized patients.

Friar actively supports a number of clubs and charities, including the Traverse City High School Ski Team. He has been a leader in local Cub and Boy Scouts organizations for 17 years, and is an Eagle Scout and inductee into the Order of the Arrow.