College of Arts, Sciences and Education
Bachelor of Science in Applied Biology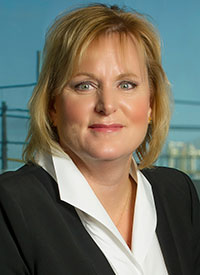 Denise DeMarais Beachy graduated from Ferris State University's College of Arts, Sciences and Education in 1985. She has since distinguished herself in 25 years of service to Dow Corning Corporation in a variety of roles, including her current role as president of Hemlock Semiconductor, which is comprised of several joint venture companies owned in majority by Dow Corning, and which provides high purity silicon for the semiconductors, computer chips, memory products, solar cells and other technologies used in renewable energy.

She previously served as Dow Corning's vice president of Strategic Feedstocks, and she was responsible for management of Dow Corning's highest-performing portfolio of more than $1 billion in revenue. Beachy also served on the strategic leadership and North and South American region commercial teams for launch of XIAMETER®, its web-enabled ordering system, which processes and delivers more than $500 million in annual sales of standard silicone.

In addition, Beachy has served as a global key customer manager, industry portfolio manager, global quality assurance manager and healthcare industry quality assurance manager for Dow Corning subsidiaries. She is a director on the WVA Manufacturing LLC and SILICUM Quebec Limited Partnership boards of representatives, and she is a director on the board of the Bay Area Chamber of Commerce of Bay City, Michigan, where she resides.

Beachy is a founding member and steering team leader of the Patriot Pride Club, the athletic booster organization for the Unionville Sebewaing Area High School Athletic Program. Beachy also is a United Way of Bay County Pillars member. She is the recipient of Great Lakes Bay Business Magazine's 2014 Women Leaders Award for Business Executive, the Technical Achievement Award for Textile Care, and the Business Athlete Award for Specialty Chemicals Business from Unilever.

She supports multiple area charities and is an executive sponsor of the Women Enriched Network at Dow Corning, which provides opportunities to develop skills and relationships that enhance competencies and advance the company's mission.