College of Arts, Sciences and Education
Bachelor of Science in Applied Biology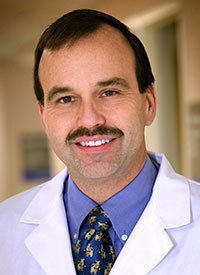 David Friar graduated from Ferris State University's College of Arts, Sciences and Education in 1989. He is a physician, and co-owner and president of iNDIGO Health Partners, a leading private hospital medicine group founded by physicians employed at Munson Medical Center in Traverse City, Michigan, where he resides. With his brother, Kenneth, he has led advancements in efficiency, productivity and quality in one of the largest provider-owned hospitalist programs in the United States. It provides inpatient healthcare at six community hospitals that serve more than 20 counties, many of them rural and underserved.

A national speaker and frequent resource for peer journals on healthcare topics and associate professor in the College of Human Medicine at Michigan State University, Friar is a senior fellow of the Society of Hospital Medicine and a member of the American College of Physicians, American Medical Association, American College of Health Administrators and the American College of Physician Executives.

Friar has served on the Munson Medical Center Board of Trustees, the iNDIGO Health Partners Board of Trustees, and as CEO to Hospitalists of Northern Michigan. In his service as a major in the United States Army Medical Corps, he has been awarded the Army Service Ribbon, the National Defense Service Medal, and twice awarded the Army Commendation Medal and Overseas Service Ribbon. He also is the recipient of multiple professional awards.

His current committee memberships include the Society of Hospital Medicine Chapter Support Committee, the Munson Health Care Board Quality Committee, and the Munson Medical Center Community Health Committee. His recent past memberships include the Advance Practitioner Provider Committee for the Society of Hospital Medicine, the Facilities Planning Committee for Munson Medical Center and the Strategic Planning Committee for Munson Healthcare.

Friar is active in the Traverse Area Recreational Trails Committee, the International Affairs Forum and the National Writers Series, and supports numerous youth leagues, races and other community events.