College of Business
Bachelor of Science in Business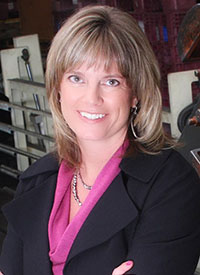 Amy Lynn Proos graduated from Ferris State University's College of Business in 1989. She is owner, CEO and president of Proos Manufacturing, a nearly 100-year-old manufacturing and fabrication company that provides stamping, welding, assembly, sheet metal fabrication and electrical solutions, and is based in Grand Rapids, Michigan. Proos' business and management acumen has helped her company double business in three years and grow from 33 employees in 2009 to 109 employees in 2015.

Proos is a board member of the West Michigan Chapter of the Precision Metal Forming Association and an Advisory Board member of the Michigan Small Business Development Center. She was a 2015 Ernst & Young judge for the Michigan/Northwest Ohio region. She is a member of the Alliance of Women Entrepreneurs and the Grand Rapids Chamber of Commerce.

Under Proos' leadership, Proos Manufacturing has received honors including Urban Entrepreneurship and Family-Owned Small Business of the Year awards from the Small Business Association, an Apex Award for Outstanding Employer, MiBiz's 50 Michigan Companies to Watch, Goodwill Industries' Small Employer of the Year and Talent Partner of the Year, and Michigan International Auto Show's Automotive Supplier of the Year.

Proos has been honored as an Ernst & Young Entrepreneur of the Year, and with an Enterprising Woman of the year award. She was named one of Grand Rapids Business Journal's 50 Most Influential Women in West Michigan in 2014. She serves on Talent 2025's Workforce Development Committee, which works to advance the competencies and skills of adults in the workforce.

Her community engagement includes past service to the organization Grand Rapids Opportunities for Women as a member of its Loan Committee. She also supports Goodwill Industries of Greater Grand Rapids as a board member and via activity on its New Ventures Committee and within its Power of Work program.