College of Pharmacy
Bachelor of Science in Pharmacy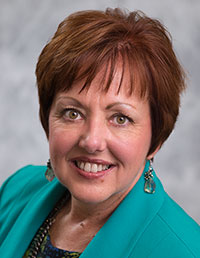 Carrie S. Germain graduated from Ferris State University's College of Pharmacy in 1980, following in the footsteps of both of her parents. She is a registered pharmacist and senior director of Pharmacy Services for HealthPlus of Michigan, a health and wellness management organization headquartered in Flint, Michigan. She also serves as an executive board member and Pharmacy Services coordinator and volunteer for Genesee County Free Medical Clinic, which provides access to health care for uninsured residents.

Germain also is highly active in the Michigan Pharmacists Association. She is a current member and past Executive Board member, speaker of the House, and chair of the Third Party Committee. She has received the organization's Executive Board Service Award and its Fellow of the Michigan Pharmacists Association Award, and is among its Hall of Honor inductees. She serves as the Genesee County Pharmacists Association chair and is a past president and president elect.

Additionally, Germain is a past chair and board of trustees member of the Michigan Pharmacy Foundation, and current chair of the Pharmacy Directors Committee and member of the Medical Directors Committee of the Michigan Association of Health Plans. She is past vice chair and current chair of the Michigan Medicaid Drug Utilization Review Board and is active in the Academy of Managed Care Pharmacy. She has served in a variety of roles for the Flint Health Coalition.

Germain's additional honors include America's Health Insurance Plans' Executive Leadership Fellowship, HealthPlus Leadership that Lasts recognition, the YMCA Nina Mills Women of Achievement Award, the Health Access Community Caring Award and the Swartz Creek Woman of the Year Award.

Her community activities include founding membership, Strategic Planning Committee leadership and fundraising for the Lazarus Project. She has served as president and treasurer of Swartz Creek Community Schools Board of Education, and as past chair and past prom chair of Swartz Creek High School's Parents' Group. She also is active in Boy Scouts of America and St. Mary's Church.

Germain is very active in the Ferris Alumni and College of Pharmacy communities. She has served on the Pharmacy Alumni board and as a guest lecturer for Ferris Pharmacy courses and organizations. She also has served as a guest speaker for College of Pharmacy White Coat Ceremonies.