College of Engineering Technology
Heavy Equipment Technology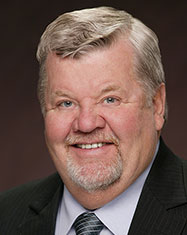 Terry Berden, through both his business and humanitarian endeavors, has made a profound and positive impact in and around Traverse City, Mich., where he has lived for nearly 40 years. Terry started his successful business, Grand Traverse Refrigeration, more than 36 years ago. His entrepreneurial spirit led him to establish a second company, Great Lakes Stainless, more than 16 years ago. In 2010, Great Lakes Stainless was honored by the Traverse City area Chamber of Commerce as Small Business of the Year and also was named one of Michigan's 50 Businesses to Watch in 2011 by Crain's Detroit Business. In 2010, Berden Enterprises was formed to serve as a management company to his businesses. Terry also partnered with a local businessman to form Healthy Energy Resources, which provides schools with a low-cost heat-exchange unit that promotes healthy classrooms while saving energy. In March of 2012, Berden added a millwork division to Great Lakes Stainless, which created more than 12 new jobs.
In addition to helping his community by creating economic opportunities, Terry supports many charitable organizations. He has served as a board member for the organization Freedom Builders, which helps the disadvantaged through housing assistance projects. He also has served on the board of Goodwill and received the Mary Stanton Award, which recognizes an individual who personifies the spirit and mission of Goodwill. Additionally, Terry has been involved with prison ministries and raised money to support Traverse City area Catholic Schools. He also has received a Distinguished Service Award from the Traverse City Area Chamber of Commerce in recognition of his community service.