College of Business
Accounting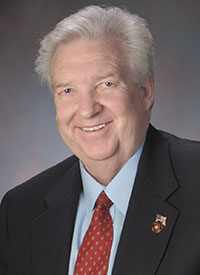 As a boy growing up in Big Rapids, Michigan, Ron Nichols worked as a paper carrier for the Big Rapids Pioneer, as a stock boy at Hall's General Store and as a produce clerk at Siphon's Market. After graduating from Big Rapids High School, he joined the United States Marine Corps and was honorably discharged with the rank of corporal in 1961.
In 1962 Ron married his wife, Colleen, who urged him to pursue his education. In 1966 he graduated with an associate degree from Henry Ford Community College in Dearborn, and in 1968 he completed degrees in marketing with a teacher's certificate from Wayne State University in Detroit. He did this while working full-time at Great Atlantic and Pacific Tea Company (A&P), starting as a butcher and journeyman meat cutter. He continued working there 30 hours a week on the night shift while also teaching at Livonia Public Schools.
In 1970, Nichols transferred to Benjamin Franklin High School where he taught accounting and marketing. In 1971, he was named Teacher of the Year. That same year he resigned his position to purchase a business in Big Rapids. He also enrolled in night classes at Central Michigan University and obtained a master's degree in Administration in 1974.
After selling his successful business, Nichols enrolled in the business program at Ferris State College, majoring in Accounting. Upon graduating in 1976, he taught at Mid Michigan Community College for three years, resigning his position to enroll at the University of Detroit School of Law. He graduated in 1983 having also taught in the Detroit Public Schools System at Philip Randolph Vocational Center while studying law. After graduation, he continued to teach and work part-time for a criminal defense lawyer.
Nichols returned to Big Rapids in 1985 and began a private practice of law. In 1986, he was elected as a Mecosta County commissioner, a position he held for six years. In 2006, he was elected 49th Circuit Court Judge. He was also a member of the Mecosta County Park Commission for 22 years.
In addition to raising two daughters of their own, Nichols and his wife have invited more than 65 foster children into their home.