College of Education and Human Services
Criminal Justice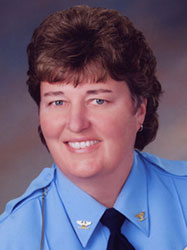 Teresa Szymanski, the first female chief of police in the history of the Lansing Police Department, has spent her professional life serving the public. She began her career in the 1980s as a uniformed patrol officer with the Douglas, Wyoming Police Department before accepting a position with the Lansing Police Department in 1987. There, she worked her way up through the ranks, from officer to sergeant, lieutenant, captain and, ultimately, chief. In that capacity, she leads and manages the department, overseeing the Special Tactical and Rescue Team, Capital Area Dive Team and Canine Unit, and developing community partnerships, among other responsibilities.
Chief Szymanski is involved in many professional organizations that benefit Lansing citizens. She is a member of the Crime Stoppers Board, Project Safe Neighborhood Task Force, Lansing Area Safety Council, South Lansing Business Association, Ingham County Change Initiative Impact Team, Lansing Educational Advancement Foundation, Lansing Branch of the NAACP, Ingham County 911 Advisory Board and others.
A participant and volunteer in too many community events to list in full, Szymanski has supported the Greater Lansing Food Bank's Empty Plate Fundraiser, Learning Through Expanded Arts Program, Juneteenth Festival, National Night Out, Diversity Day Festival, Mayor's Labor Walk, Project Homeless Connect, No Senior Left Behind and many more.