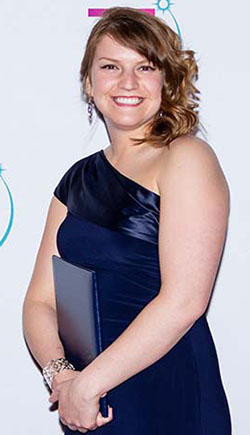 An eighth-grade science teacher at Mason County Central Middle School is thankful for her good fortune through interactions with the National Science Teachers Association.
Brianna Wise, a 2017 alumna of Ferris State University's Teacher Education program, said her recent visit to the 2019 NSTA National Conference in St. Louis, Missouri was a learning opportunity, as she was one of 17 recipients of the Maitland P. Simmons Memorial Award for New Teachers.
"I have been a member of the association since my college days, and I also won an NSTA sweepstakes, which provided my airfare to attend the national conference," Wise said. "Since I am just in my second year as a teacher, sorting out my post-graduate finances means seeking out avenues, like the Simmons Award, which went toward my expenses for participation in the conference."
Wise wrote a short essay that detailed her experiences in the classroom, and her hopes for her career as an educator, to earn acceptance as part of the 2019 cohort of teachers with five years or fewer in the classroom.
"Scott Kelly, the astronaut, was the conference's keynote speaker. He spoke about his participation in a study along with his twin so that the effects of being in space could be assessed," Wise said. "I also visited the St. Louis Science Center, which gave me plenty of great ideas for my instruction. I believe my sections on astronomy and climate change will be much improved, as a result of attending the conference."
Wise also sought and received assistance from the K-12 Educator Incentive Program of the Michigan Space Grant Consortium, which is administered by the University of Michigan, in support of her participation in the NSTA National Conference.
"It is kind of amazing how everything came together," Wise said. "It was a great experience to take part in the conference."