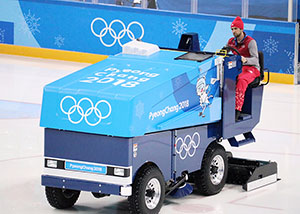 In what he described as a "perfect storm" of circumstances, Ferris State University alumnus and Big Rapids native Adam Stirn operated a Zamboni in Gangneung, South Korea as part of a team of six ice technicians who were selected to work at the hockey venue for the 2018 Pyeongchang Winter Olympics.
"I was hired for hockey. The other Olympic sports and competitions have different ice requirements, and each sport has technicians who are experts in producing the proper surface," Stirn said. "I have picked up many tips and techniques from my boss, Don Moffatt, and the other drivers. We are really a team over here. I am glad I have been able to contribute some concepts when we get together to discuss operations after each day's work."
Stirn said his opportunity to join the field of 16 technicians preparing the ice for all Olympic sports was impacted by the National Hockey League's decision to continue its regular season and retain its players, while the Pyeongchang games were being held. He added that Chad Billins, an All-American for Ferris' 2011-12 NCAA "Frozen Four" squad, was pleased to claim a spot on the U.S. Olympic team, a matter they discussed at the Hockey Centre.
"My credentials gave me full access to Gangneung so it was great to seek Chad out as it has been five or six years since the last time we had talked," Stirn said. "We both agreed we were really thankful for the way things had worked out, and to have this opportunity."
Billins, who has 10 games of NHL experience, has also played in the American Hockey League and in the Russian Kontinental Hockey League. He is currently a member of Linkopings HC in the Swedish Hockey League, where players were released to compete in the Olympics while the SHL season continues.
Stirn earned his Bachelor of Science degree in Criminal Justice from Ferris in 2007 and a Master of Science in CJ, in 2009. He began his pursuits in ice making as a student employee at the Ewigleben Ice Arena and went to work at the Resch Center Complex in Green Bay, Wisconsin after graduating from Ferris. In 2014, he became lead ice maker for the University of Minnesota which has 3M Arena at Mariucci in Minneapolis for their men's hockey team and Ridder Arena, a smaller venue for the Gophers' women's team, in the same vicinity.
"I also work part-time for the Minnesota Wild at the Xcel Energy Center," Stirn said. "That put me on the Zamboni when the Wild hosted the NHL Winter Classic (at TCF Bank Stadium, Feb. 21, 2016). It was a unique experience to do my job in front of a crowd of 70,000 fans. I work with Travis Larson, who is ice operations manager and event manager for the Wild. He was a big factor in my receiving this Olympic opportunity."
Stirn expects there will be some time to reflect on his experiences in South Korea supporting the Olympics through his service in Pyeongchang.
"It was a massive learning experience and an achievement being there, kind of the fulfillment of a pipe dream," Stirn said. "When you consider the Olympics, it doesn't get any bigger than that. I am so thankful for the experience knowing my involvement with the NHL and their decision on these games had factored into what came my way. Being on the glass for the U.S. Women's gold medal win over Canada may be my ultimate professional experience. Right now, I would be open to serving again, in Beijing in 2022, but who can say what will come before then."
Stirn's stepfather, Greg Key, retired several years ago as director of Ferris' School of Automotive and Heavy Equipment. His mother, Marie Mondrella Key, is a Big Rapids native who earned her Associate of Applied Science degree from the university's College of Business in 1974, and retired after a career as a legal assistant having worked in the office of Ferris alumnus Mark Viel.