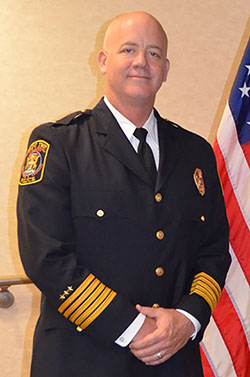 1993 Criminal Justice alumnus Kevin Salter is on familiar ground as he continues his law enforcement career as police chief with the Flint Township Police Department.
"I joined the department in 1999 and took on a variety of responsibilities over the years such as patrol duties, serving as a plainclothes investigator, detective work and a number of other tasks," Salter said. "I believe my criminal justice studies, and these experiences, are a great benefit to this new role, working with the members of our staff."
Salter said he learned a lot from his interactions with and the direction he received from previous FTPD chiefs Vane King and George Sippert.
"They both placed significant emphasis on the need to be accountable and nurtured the development of my leadership style," Salter said. "Right up to the time he retired, in May, Chief Sippert was consistent in his emphasis that we 'do the right thing and always take the high road.'"
After earning his Bachelor of Science in Criminal Justice from Ferris, Salter served as a police officer with the Montrose City and Mount Morris Township police departments. He had a four-year commitment to the United States Army conclude in 1998. During his time with the FTPD, Salter was a graduate of the School of Police Staff and Command Class #376, offered by the Northwestern David L. Eisler Center for Public Safety – a 10-week program.
"Becoming the chief of our department means I have achieved one of my personal career goals," Salter said. "I am now looking forward to further those departmental objectives that have been established while seeking greater levels of excellence for myself and the members of our force."
Salter was a lieutenant in the FTPD before his appointment as chief.
"I was pleased to receive this new opportunity in what was a very competitive process," Salter said. "My priorities now include becoming more familiar with those serving in our local government and the many community groups in Flint Township and listening to their interests. I also intend to be active in professional organizations, such as the Michigan Association of Chiefs of Police."