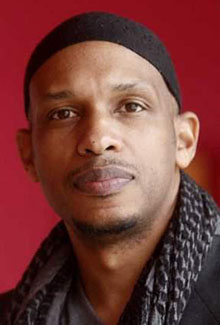 The founder and curator of the Black History 101 Mobile Museum recently brought his newest exhibit to the David L. Eisler Center as Ferris State University opened its 2018 Black History Month Celebration with that display and a presentation by Ferris alumnus Khalid el-Hakim.
The new '68 Exhibit includes 150 original artifacts including rare material from the Trans-Atlantic slave trade and the United States' Jim Crow era. Continuing the rich tradition of the Black Museum movement is el-Hakim's goal as he hopes to bring out a variety of emotions so people can feel and think critically about history.
"The iconic photograph of John Carlos and Tommie Smith's protest during the '68 Olympics is something college students have seen before, but they may not know the historical context of that event or understand how that passive but powerful act of defiance influenced ex-NFL player Colin Kaepernick to silently take a knee," el-Hakim said. "We want visitors to make connections between the past to current events."
The 1994 Business Education graduate has collected more than 7,000 original artifacts of Black memorabilia and said while 1968 was a poignant time with the assassination of Martin Luther King Jr. -- the contributions of Arthur Ashe, Shirley Chisholm, Jimi Hendrix and The Most Honorable Elijah Muhammad are also represented in this exhibit.
"I welcome the community to come visit and use this space as an occasion to consider the necessity of having the voices of marginalized people included not only in local school curricula, but in the broader community via libraries and museums," el-Hakim said. "It's my goal to help others to envision themselves as socially conscious makers of history."
El-Hakim has been called the "Schomburg of the hip-hop generation."
"The challenge for me as a teacher has never been about how to engage students in Black history," he said. "I learned more about Black history through hip hop culture in the 80s and 90s than I ever did in my K-12 experience. So hip hop culture is one the vehicles I use to connect with students. As I travel across the country, students immediately see the value and importance of the artifacts that are on display."