Mike Noble credits his education and experiences at Ferris with inspiring him in his role as a youth advocate at Ottawa Hills High School in Grand Rapids, Mich. Noble created Young Men Destined for Success, a program that encourages Ottawa Hills students to excel academically, and Noble Strong, a program that mentors and trains young basketball players.

Ottawa Hills High School Principal Rodney Lewis, himself a 1990 Ferris graduate, said Noble "does wonderful things for the students he serves."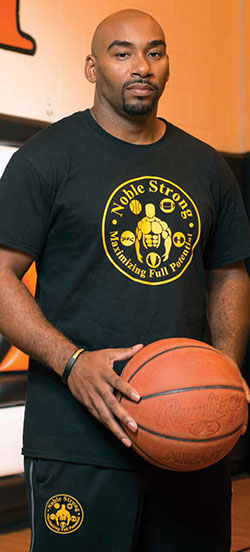 By Michael Noble (CHP '07)
I grew up in Kankakee, Ill. After graduating from high school in 1997, I began my college career at Paine College in Augusta, Ga., where I hoped to fulfill my dreams of playing college basketball. I made a great impression on the head basketball coach there, even though I was shorter than his average guards. Unfortunately, well before the season commenced, I injured my back during an open gym practice and never played basketball at the collegiate level.
Immediately, I decided to transfer closer to home. I called my cousin, Tyrone Noble, who was playing football for the University of Michigan at the time, and he told me about Ferris State University, explaining how "perfect" this school would be for me. I had one visit and fell in love on the spot! I enrolled there in the fall of 1998.
Ferris was a great experience for me. I took full advantage of the resources and opportunities the university had to offer. I made a lot of life-long bonds with people, including Office of Multicultural Student Services director Matthew Chaney, assistant director Mike Wade, former director Raymond Gant, Gear Up coordinator Kia Hunter and former administrative assistant Andrea Blue, as well as Dean of Student Life Leroy Wright, University Recreation director Cindy Horn and Mike Cairns, former associate vice president for Student Affairs. These wonderful people helped to shape and mold me into the person I am today. For that, I am truly grateful.
My greatest blessing from attending Ferris was meeting my lovely wife, Dia Price (B '08), who was a member of the track and field team. We celebrated our first anniversary on Sept. 6.
I believe that Ferris State prepared me to take on the world. I was very socially active while attending Ferris. I worked in student housing and at the University Recreation Center as well as for the Office of Multicultural Student Services, all while pursuing a bachelor's degree in Health Care Systems Administration.
OMSS was a home away from home. It helped with my transition from Paine, a predominately black college, to a university where blacks were not the majority. I was also a part of a very inspiring organization called Black Leaders Aspiring for Critical Knowledge, or B.L.A.C.K. The sole purpose of B.L.A.C.K. was to bridge the gap between cultures, encourage young men to be upstanding citizens and to unify the campus by collaborating with organizations of all ethnicities and genders.
I had to leave Ferris in 2003 for financial reasons, but returned in 2005 after working three jobs to save enough money to finish my degree.
I earned my bachelor's in Health Care Systems Administration in 2007, but working in OMSS brought the realization that I had a niche for impacting youth. I mentored lots of students during my time at Ferris, simply because I desired to help others. I eventually decided to pursue a master's degree in Post- Secondary Education Administration. I applied to be a college advisor in the Grand Rapids Public Schools District during my third year in graduate school. I was hired at Ottawa Hills High School in 2010.
On my very first day at Ottawa Hills, I noticed much of the male population did not consider academic prowess something to be proud of. Many despised the idea of other students knowing they maintained good-to-excellent grade point averages and preferred to go unnoticed. I found that discouraging.
Right away, I made my presence known by becoming the skills, strength and conditioning coach for the school's basketball teams. I offered free basketball training every day of the week and used the position as a way to establish a trusting relationship with the young men on the team. This allowed me to expand my impact on the guys to include regular school duties. I met James Burress, Ottawa Hills' former dean of students and current director of Academic Up-Grade, and Bennett Gay, who was a student youth advocate there, and they became my mentors. The three of us wanted to restore academic pride in our young men.
I told them I wanted to start an organization similar to the one I was a part of at Ferris State but focus it solely on academics. They thought it was a great idea, and Young Men Destined for Success was born. The organization focuses on mentoring young men to pursue high achievement in and out of the classroom. One of the students I first mentored is now a student at Ferris State.
Unfortunately, the district suffered major budget cuts at the end of the school year, and I was laid off.
I am a very positive person and have a strong faith. During the time I was laid off, I never stopped mentoring and offering basketball training. I provided rides for students to tutoring, practice, work and also to and from school. At the time, a round trip to Ottawa High from my Northwest Grand Rapids home was 20 miles. However, I did not let that deter me, and I continued to provide support to students and trainings throughout the entire summer.
By fall and the start of a new school year, I was broke. I sold everything in my house to survive, except my bed, TV and DVD player. I lived off inexpensive food and earned money by doing odd jobs. I survived by the grace of God and great friends and family members who sent me money when they could.
Through it all, I continued to train and mentor those young men I had begun influencing. Mr. Burress, who had worked in the district more than 40 years, encouraged me to stay positive, informing me that he, Mr. Gay and Rodney Lewis, the principal at Ottawa Hills — who also happens to be a Ferris graduate and former football player for the Bulldogs — were fighting for me. In the fall of 2012, I was hired back by Grand Rapids schools as a student youth advocate at Ottawa Hills, working with at-risk students to help with behavior, grades and attendance.
On March 6, 2013, I inducted the first seven members into Young Men Destined for Success. They have done everything I've asked of them. They are seniors this year with grade point averages above a 3.0 and have earned at least 12 college credits. Two of them have played on the varsity basketball team for three years and have the opportunity to earn both athletic and academic scholarships. Their success convinced me to start my own basketball training company, Noble Strong Training LLC.
Last summer, I trained athletes from across Michigan and five states. Noble Strong provides athletes with knowledge-based training to maximize their full potential. We train with what I call a 4.0 philosophy. A 4.0 is the highest grade point average you can earn in school on a standard scale. It is the best, and it signifies maximum achievement. Everyone should be striving for the top at all times, understanding that it is acceptable if they fall a little short. The 4.0 Philosophy encourages athletes to train diligently with consistent effort.
I'm proud of Noble Strong Training and what it has accomplished, and I know there are great things to come. I'm also proud of my work as a youth advocate.
I can attribute a lot of my work ethic and business knowledge to attending Ferris State University. I always say, "If you can make it at Ferris you can make it anywhere."