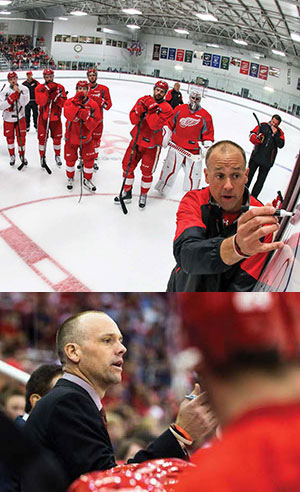 The Ferris State University men's ice hockey program has had a long and storied tradition of success.
From the program's inception in the mid-1970s to its recent prestige on the national stage, the Bulldogs have ranked as one of college hockey's treasures.
The proud and rich history has not only included championships and titles, but also many notable alumni who went on to make an impact in professional hockey, such as two-time Stanley Cup Champion Chris Kunitz (B '03) along with legends and future pros, including Dave Karpa (EHS '93), John Gruden (B '94) and Zach Redmond (B '11).
Perhaps, though, no moment defines Ferris State Hockey's prominence more than the one that occurred this summer.
In early June, one of professional hockey's "Original Six" franchises, the home-state Detroit Red Wings, tabbed former Ferris State goaltender and assistant coach Jeff Blashill as the team's new head coach, and he landed in Hockeytown.
"We're all very proud of Jeff's accomplishments, and it's a tremendous opportunity for him," said Ferris State head coach Bob Daniels. "I know Jeff wanted to be an NHL coach, and to be afforded this chance at that level with a class organization from our own state in the Detroit Red Wings is outstanding.
"We've had a number of former players go on to achieve success in the National Hockey League and to now have a former player and assistant coach move into this role speaks volumes for our program and the success we've enjoyed," Daniels added. "More importantly, I'm excited for Jeff on a personal level, because he's an individual with great class and a good friend."
Born in Southfield, Mich., and raised in Sault Ste. Marie, Blashill, 41, played goalie for Ferris from 1994 to 1998. It was during that time when Jeff met his wife, Erica (B '99), while both were students and when his coaching odyssey began. After graduating from Ferris with a bachelor's degree in Finance, Blashill spent three years as a Bulldog assistant and realized coaching was a career he wanted to pursue.
"We were really young," Erica Blashill said. "We were in college, but even then he was a very serious player. He took every game extremely serious. He was always prepared and took every loss very hard and personally. He is the same way now — very driven, very serious but with a great sense of humor and a great personality."
Blashill spent four seasons between the pipes for Ferris State, earning the Bulldogs' Rookie of the Year award in 1994-95 and a spot on the Central Collegiate Hockey Association's All-Academic Team for 1996- 97. He also earned the Ferris State University President's Award three straight years for having the highest grade point average on the squad.
"My time at Ferris State and the relationships I made were absolutely awesome," Blashill said. "There are the guys that I've coached and played with that I'm still in contact with, then there are the guys that I wasn't on a team with, but we have a relationship just because we're all Bulldogs. It's just a great group of truly special people."
Blashill has rapidly ascended hockey's coaching ladder since he left Ferris to begin his head-coaching career with the United States Hockey League's Indiana Ice in 2008, capturing a franchise-record 39 wins and a Clark Cup championship. He departed for Western Michigan University in 2010 and led the Broncos to the CCHA Tournament. After spending the following year on the Red Wings' bench as an assistant coach, he enjoyed three highly-successful years as the top man for the Grand Rapids Griffins — the Red Wings' American Hockey League affiliate — which included the 2013 Calder Cup championship. He was named AHL coach of the year in 2013-14.
Blashill, the Red Wings' 27th head coach, took the reins from Mike Babcock, who left to coach the Toronto Maple Leafs.
"I've had opportunities over the years to watch his bench management and different changes they make," said Daniels, who coached Blashill and was his first full-time boss as a coach. "As his experience has grown, his ability to make those adjustments during the game has improved as well, and I'm confident he's ready to lead the Red Wings."
Blashill credits many of the things he has learned about coaching hockey to Daniels and his staff.
"Bob and (associate head coach) Drew Famulak were the two people I coached with when I started here," said Blashill, who makes the annual trek to Big Rapids each August for the team's alumni golf outing. He also spent time in Big Rapids this summer to celebrate the marriage of his younger brother, Tim, who helps manage Ferris' Ewigleben Ice Arena and coaches the Big Rapids High School hockey team.
"Certainly the foundation that I have as a coach was built at Ferris, and it had a huge impact on my profession," he added. "I keep very close tabs on Ferris State and Bulldog Hockey. I'm very good friends with the coaching staff. It's the longevity of Bob's career and the job that he's done that's been a really prideful thing for us as alums, so I'm checking in with him all the time."
Blashill's path from Bulldog Country and Ferris' Big Rapids campus to Joe Louis Arena on Detroit's east side has been well-documented. While it may not have been expected in all circles, his new position is not surprising to either the Blashill family or those closely involved with Bulldog Hockey.
"We're thrilled Jeff has the opportunity to coach in the NHL, and it is well-deserved," said Tim Blashill. "We both grew up as big Red Wings fans and to have him leading that franchise is outstanding. He's worked extremely hard to get to this level from his time growing up in Sault Ste. Marie through his days at Ferris State and now to his recent head coaching success. I couldn't be more excited to watch him lead what is truly one of professional hockey's most storied teams."
Erica Blashill added that her husband's ascension in the Red Wings organization was not a surprise.
"I actually always knew that this would happen," she said. "I wasn't sure when or what the path would be or how he would get there. But very rarely does he, if ever, put his mind to something and not actually achieve that goal."
"Rarely" is the key word. It was during his Ferris State student years that close friend and former teammate Seth Appert (B '97) said Blashill would have graduated with a perfect GPA if not for a small gaffe.
"I think I'm still blamed for convincing him that he didn't need to take an optional final exam because he always got an A in everything," said Appert, head hockey coach at Rensselaer Polytechnic Institute in Troy, N.Y., and another proud Bulldog alum. "I think we went on a road trip instead, so he blames his lack of a 4.0 on me. What I like to remind him of is that I have my master's degree. So he can have his 3.99, butI'm the higher-educated man of the friendship."
Blashill and Appert both were goaltenders during their collegiate careers, and the relationship they developed on the Ferris State campus still resonates more than 20 years later. Appert said his friend combines "a real passion" for the game of hockey and "a real love" for teaching the sport with incredible attention to detail.
"He has real strong convictions and a really strong belief in what's right and how to play the game and how a team needs to play to win. Then he balances that, I think, by treating his players very well," he said. "He's hard on them. He's demanding of them. But I think he treats players how players would want to be treated … he holds them to high standards."
As a two-year starter for the Bulldogs, Blashill played in 78 career games. While not a professional goaltending prospect, his knowledge and desire would one day would make him an NHL head coach.
"I think it began when Bob Daniels gave him a chance to be a coach at Ferris," said Blashill's mother, Rosemary. "He's always thought to do better tomorrow than he did today."
Daniels fondly remembers Blashill's time as a Bulldog player and his coaching start.
"He was young but had the personality to be a good coach," Daniels said. "He was very loyal as well. Jeff walked out of the locker room as a player and walked back in shortly after as an assistant coach. That was very challenging, but he did it seamlessly.
"I hated to see him go when he left us. I knew he wanted to be a head coach. I thought, 'this is a guy who can have a nice career if he stays in coaching.' You could see he had a real passion for it."
That passion will be on display this season as Blashill attempts to guide one of professional hockey's most storied franchises back to the top.
"First of all, we take everything year by year," Blashill said. "The significance of the playoffs for me is that in order to compete for the Stanley Cup you have to get to the playoffs. Our focus will be on the day-to-day work that we'll have to put in to ultimately become a contender for the Stanley Cup."
Despite being the man tasked with bringing the cup back to Detroit, Blashill remains grounded and continues to display many of the same qualities he first displayed during his Bulldog career.
"I'm so thankful for my time at Ferris State and how it helped me reach this stage," he said.
– Bill Roose, DetroitRedWings.com managing editor, contributed to this report
---
Related Links:
Bulldog Alumni Blashill and Billins are Calder Cup Champions