Jeff Blashill, Detroit Red Wings Assistant Coach
Former Ferris ice hockey player and assistant coach Jeff Blashill (B'98) is now an assistant coach with the NHL's Detroit Red Wings. Blashill, who spent the 2010-11 season as head coach at Western Michigan University, played at Ferris from 1994 to 1998 and later served as an assistant coach for the Bulldogs from 1998 to 2001.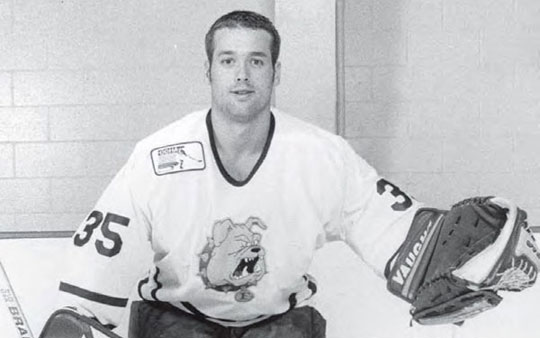 "I am extremely excited for the opportunity to pursue a lifelong dream to coach in the NHL with the best organization in sports, the Detroit Red Wings," said Blashill upon the announcement of his new position.
Born in Detroit and raised in Sault Ste. Marie, Blashill was the Bulldogs' Rookie of the Year Award recipient for the 1994-95 season and was named to the CCHA All-Academic Team in 1996-97. He went on to serve as a volunteer assistant coach for the Bulldogs in 1998-99 and spent the next two seasons (1999-2000 and 2000-01) as an assistant coach with the program.
Blashill spent 2002-08 with the Miami University Red Hawks as a member of head coach Enrico Blasi's staff. In those six seasons, the Red Hawks made four NCAA Tournament appearances, which featured a pair of Elite Eight trips in 2006-07 and 2007-08. He was also a three-time member of Team USA's coaching staff — at the 2009 World Junior 'A' Challenge, the 2009 IIHF World Junior Championships and the 2006 Under-18 Junior World Cup.
He was the head coach and general manager of the United States Hockey League's Indiana Ice from 2008-10. Under his direction, the Ice skated to the USHL Clark Cup crown in 2008-09.
At Western Michigan, Blashill coached the Broncos to the program's first NCAA Tournament berth since 1996. He was recognized as the national coach of the year by U.S. College Hockey Online, Inside College Hockey.com and College Hockey News, in addition to being a finalist for the CCHA Coach of the Year.
Blashill's wife, Erica (Williams, AS'95) also is a Ferris State graduate. His younger brother, Tim, is the varsity head coach of the Big Rapids High School boy's ice hockey team and also serves as coordinator of Ferris' hockey program and pro-shop.
"We're all very proud of Jeff's accomplishments," said Ferris State head coach Bob Daniels. "I know Jeff wanted to be an NHL coach someday, and now he's been afforded this tremendous opportunity to be associated with a class organization in the Detroit Red Wings."
Related Links
From Bulldog Country to Hockeytown
Bulldog Alumni Blashill and Billins are Calder Cup Champions