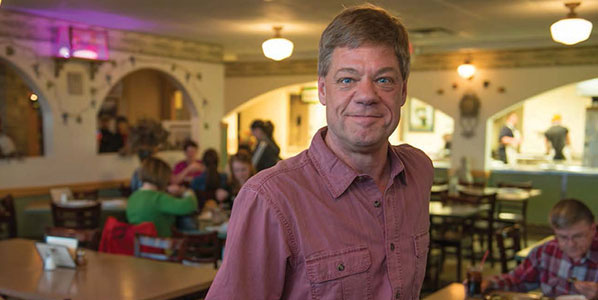 Doug Fricano (B '80) is celebrating his 10th anniversary as owner of Fricano's Pizza in Comstock Park, Michigan, but the family name has been well-known in West Michigan since 1949. That's when his father, Gus, opened what many believe to be the first pizzeria in Michigan, Fricano's Pizza Tavern in Grand Haven. More than 60 years later, "the most famous pizza in Michigan" is served in family-owned restaurants in Kalamazoo, Holland and Muskegon, as well as Doug's place in Comstock Park and the landmark location along the lakeshore.
Doug wasn't planning to follow in his father's footsteps. But, in the following essay, he shares the role his Ferris education played in bringing his life's journey full circle.
By Doug Fricano
I think my father had a lot of children so that he would have help running his pizza parlor.
I grew up in a family of seven children. We lived in a storybook neighborhood in Grand Haven for a while, then moved to an old farm owned by my great uncle Curly. He grew fruits and vegetables, and sold them to the stores in our area. We had many responsibilities and were expected to do whatever was asked of us.
Growing up in Grand Haven, there was plenty to do between the beach, the dunes, trails and the woods. It was a great place to grow up — we played baseball in our front yard, hitting home runs over the willow trees, and rode bikes through the woods until we got lost. I played football, swam and wrestled. I wasn't the worst student in my class, but could have applied myself much better. I saved that for my college days.
I graduated from Grand Haven High School in 1975 and made a loose attempt to further my education by attending Muskegon Community College. I also worked a couple of jobs and hung out with friends every chance I could. Distractions abounded. Inspiration to buckle down came from an unexpected source at the time. A man I respected greatly told me in so many words that if I wanted to continue dating his daughter, I had better come up with a better plan. He told me to go to college and become good at one thing. I never thought I had what it took to succeed in college, but, with his encouragement, I enrolled at Ferris State College for the fall of 1977.
Ferris was a pretty simple choice. It was in fairly close proximity to home, had a lot of programs to choose from, and they accepted me — despite my GPA. I was nervous during orientation. It was a very new arena for this hometown boy from Grand Haven who never saw himself as a college student.
I was going to run the family business; that's all that was ever expected, but I wasn't sure I wanted to go down that road. I wasn't sure about a lot of things, but landing at Ferris State proved to be one of the best things that ever happened to me.
While eating lunch, I met a guy who was in the same shoes as me, trying to find his place in life and hopeful Ferris could help. Mark and I became friends over that lunch, and decided to be roommates. Merrill Hall, Room 313. That day was the beginning of the rest of my life, and I am not kidding. It was a turning point in growing up and getting on with life.
I started out taking general education classes while learning the ropes of campus life. Merrill Hall was the place to be, and Mark and I made some really good friends. It was exciting to be in college. I learned to balance fun times with maintaining a good GPA. Big Rapids became home to me.
The following year, we moved off of campus to a house on Second Street, where the extermination of a family of skunks that lived below it resulted in our home being known as "Skunk Lodge." We threw a few of those infamous house parties that are material for Hollywood movies. There were so many people with such varied backgrounds that getting to know them was a new adventure just about every day. I couldn't imagine being anywhere else, but my family was never far from my thoughts.
Meeting with my academic advisor to discuss what major to pursue, I told him about my father's popular pizza parlor back in Grand Haven. It's an amazing success story, but I was always curious how he did so well with a one-item pizza and no advertising budget. People flocked to his restaurant from all over, but it wasn't because they saw an ad. Ironically, I decided to major in advertising.
I learned so much about awareness and mass communication, as well as marketing and its commanding role in any business. I was challenged in all of my classes and the requirements to pass sometimes seemed insurmountable, but I loved the pure satisfaction of gaining knowledge and learning how to solve a problem in a systematic way. I was never an "A" student, and reaching my senior year was an accomplishment.
My final year would be my toughest, and it came in the form of a very strict and wily marketing professor, Keith Lucas. He was as scary as his reputation.
Marketing Cases and Marketing Analysis were two of the best classes I took at Ferris, and two of the most demanding. Marathon study sessions with wonderful classmates were what got us through. The power of sheer determination when people work for the same goal is amazing. Roland Hicks, my mentor in the Advertising program, was a brilliant man who never gave anyone a free pass, but he was there for me. I admired his perception and knowledge.
That year, I was running on the track and spied a rather gorgeous gal. I nodded and said, "Hi." She smiled back. Little did I know at the time that she would become my wife six years later. Kay was a Marketing student. She graduated in the spring of 1980 and jetted off to the Philippines with the Peace Corps for two years. She spearheaded some great marketing for the Squid chip and mango industries there, and formed the first women's Jaycees club on the island of Ilo Ilo. Today, she's the volunteer coordinator for Spectrum Health.
My first job after graduation was as a media sales rep for a chain of grocery stores in West Michigan. I later worked for an industrial manufacturer in Grand Haven, handling their inside sales as well as advertising placement. I was eventually laid off, but a few weeks later was contacted by a local lumber company looking for an advertising rep. He got my name from the Ferris State College placement office. I was thrilled.
My career in advertising was fruitful, and I liked it. But my talents eventually were called upon for something else. My father became stricken with amyotrophic lateral sclerosis (ALS) and could no longer work. He asked me to take the reins, and I never batted an eye.
It was the best 13 years of my life, caring for the landmark known as "Fricano's Pizza." In 1996, I decided to expand and asked my brother to fill in in Grand Haven. For a while, I had three stores going at once, but that became too demanding, and I downsized to my current location. In the past decade, I've expanded the menu to feature Italian specialties, and I seized the opportunity to bottle and sell our "il Sugo" Sicilian spaghetti sauce. With the proper California-grown tomatoes, I can duplicate our family recipe without losing one bit of its integrity and flavor. I sell it in specialty shops all over Michigan, and it recently was picked up by SpartanNash and is available in 40 of its select stores. Good thing I like making spaghetti sauce, because I do it a lot now.
The work with this area of my business isn't the processing and bottling; it is the marketing. I refer to my Ferris education on many occasions to stay steered in the proper direction. Being prepared and well-versed on your product in every facet is critical when calling on prospective customers. One thing I was taught at Ferris that I will never forget is how to solve a problem.
The Fricano family continues on in the tradition established by my father. It's somewhat difficult at times. We fight to keep our product the way it was created in 1949, despite the way pizza has evolved. There is no pizza pie nearly as special. My father would be the first to tell you he got lucky with his recipe, but his good fortune has been the good fortune of many generations of faithful pizza fans.
Kay and I have a daughter, Gloria, who also is a Bulldog. She completed a bachelor's degree in Business Administration with a concentration in Computer Technology in May 2013. She was hired within a few months to work for the Ace Hardware chain. She has become a valuable asset to me in the day-to-day operations of my business.
I've come a long way since my Ferris days, but my future really did start that summer day at orientation. I laid the groundwork for the rest of my life, and I give all the credit to my alma mater. Ferris State University provided me with life skills and focus, and following my dreams became much clearer.
People are passionate about Fricano's pizza. Voters have chosen it "Best Pizza" in several contests, including Pure Michigan and MLive.com.