College of Arts, Sciences and Education Alumna Achieves Dream, Gives Back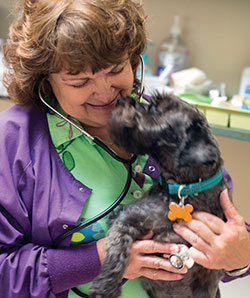 "Pay it Forward" is a philosophy that Dr. Sandra Strandberg preaches and practices. The concept of encouraging acts of kindness is second nature for the Ferris State University alumnus, whose gratefulness for her own opportunities in life prompted her to make financial contributions that will make others' life journeys easier.
Strandberg has created an endowment fund to provide scholarships for undergraduates at Ferris who want to care for animals. The Sandra Kay Strandberg Endowed Scholarship will be awarded annually to students working toward a Bachelor of Science in Biology (Pre-Veterinary Medicine) in the university's College of Arts, Sciences and Education.
"Animals provide unconditional love," Strandberg said. "We need to take care of them."
The endowment for future veterinarians is just one way she is helping to ensure that care.
Five years ago, Strandberg opened the Pay It Forward Animal Outreach Veterinary Clinic in Muskegon, a nonprofit that provides low-cost vaccines and basic veterinary care to families suffering from financial hardship.
The walk-in clinic, at 90 S. Seaway Drive, was named after the 2000 movie "Pay It Forward" starring Hayley Joel Osment as a young boy who launches a goodwill movement for a school assignment. In the spirit of paying it forward, the clinic also offers community networking options and a pet food bank.
Strandberg is proud of the clinic, which has served more than 6,500 Muskegon-area families since its inception. She and another veterinarian and staff members provide vaccinations, heartworm tests, urinalysis, ear exams, flea, tick and heartworm preventatives; they refer clients to the West Michigan Spay and Neuter Clinic for low-cost surgeries and to Grand Rapids-area animal centers for low-cost dental care and more extensive medical care.
"There is a tremendous need here," Strandberg said. "I feel privileged I have been able to help meet that need."
Strandberg was born and raised in Muskegon; she and her husband, Floyd, a retired educator, graduated from Reeths Puffer High School together.
"I dreamed of being a veterinarian since I was 5 years old, but there were no women in veterinary medicine then, so I was encouraged to go into nursing," said Strandberg, who graduated from Hackley School of Nursing in Muskegon in 1970.
During the next 20 years, Strandberg moved to Big Rapids, where she worked as a nurse, served a three-year stint with her husband as residence hall directors in Ferris' Henderson and Brophy/McNerney halls, earned a degree in Allied Health Teacher Education, taught classes at the university and had two children.
When her son started college in 1987, she returned to school, too, earning an associate degree in Pre-Veterinary Medicine from Ferris. In 1994, at age 44, she earned a Doctor of Veterinary Medicine degree from Michigan State University.
"I feel very privileged and grateful that I had the opportunity to work as a nurse, then go back to school and realize my dream of being a veterinarian," she said.
In 2002, she and her husband returned to Muskegon to be closer to family.
"When people ask me where I went to school, I always say Ferris," said Strandberg, who also has donated to various Muskegon County charities "dear to my heart." "I raised my children in Big Rapids — I consider Big Rapids our home. The endowment was an opportunity for me to say, 'hey, I appreciate the time, the employment, the instructors and the education that Ferris provided me.'"
Rick Kurtz, dean of Ferris' College of Arts, Sciences and Education, said Strandberg's endowment for students majoring in Pre-Veterinary Medicine is inspiring.
"Ferris State University has many bright, eager young adults who are often financially challenged," Kurtz said. "It is because of the passion and generosity of alumni like Sandi that we are able to help provide a pathway to success for current and future generations of Ferris students."